A group of students under the Master of Arts in Journalism program of the UST Graduate School presented a paper during the conference on journalism studies staged virtually in Canberra, Australia on December 1, 2021.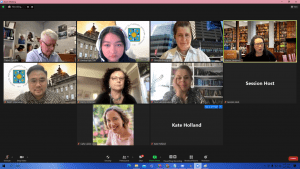 Students Ralph Edwin Villanueva and Pauline Faye Tria presented a research paper titled "Filipino politicians passing through news gates and becoming newsworthy? A discursive news values analysis (DNVA) of COVID-19 political reportage" during the annual conference of the Journalism Education and Research Association of Australia (JERAA), Australia's national association of journalism educators and scholars and co-organizer of this year's annual event together with the University of Canberra.
Earlier in September, a group of students under the same program presented papers in a conference in Cardiff, Wales.

The participation of these Graduate School students is an attempt to bring the voices of Filipino journalists into current-day global discussions among journalism practitioners, scholars and educators on the pandemic's overall impact on journalism.