To strengthen the implementation of mother tongue-based multilingual education (MTB MLE) in the Philippines and stress its importance in society, the University of Santo Tomas Graduate School, in partnership with the UST Department of English, recently organized an international webinar to explain its benefits.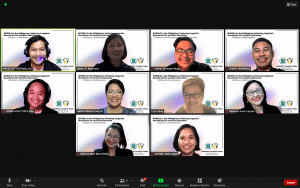 The speaker was Ateneo de Manila University Department of Educational Management and Leadership Chair Dr. Isabel Martin who emphasized the accomplishments of the implementation of MTB-MLE in the country. The virtual event titled "MTB-MLE in the Philippines: Softening Linguistic Boundaries for Inclusive Education" was held through Zoom.
"In MTB-MLE, students were found to be more motivated to participate in the classroom discussions for the obvious reason that they can understand the teacher who talks to them in a language they know. Because of this, it was observed that there was a decline in student absences and dropouts. For the teachers, they were found to be more at ease in the classroom, with smoother relationships with their students," said Martin, who is also the ADMU Gokongwei Brothers School of Education Coordinator for Research.
Martin explained that MTB-MLE also led to higher participation of the community in activities such as curriculum design, preparation of instructional materials, and teacher training, and in making the students' parents who are not proficient in the dominant languages more involved in the education of their children.
The speaker mentioned that MTB-MLE is still a work in progress, with the usual birth pains of any new national education policy and that its implementation continues to face challenges including teacher anxieties, resistance of parents and other stakeholders, and mismatch between the mother tongue (MT) selected by officials or the MT used in instructional materials and the MT used in the community.
"Although many have reported that they were already using the mother tongues before the policy was introduced, having MT as a subject was a different ballgame. Teachers were anxious about how prepared they were to teach MT both as a subject and as MOI," said Martin.
"Parents and other stakeholders were also resistant to the new policy. Foremost was the concern about learning English. Among parents and employers, there was the question of employability. For them MTB-MLE would produce graduates who are not proficient in English, and therefore, of poor quality," she added.
Martin ended her talk by highlighting the importance of softening linguistic boundaries rather than sharpening them and allowing languages to genuinely interact with each other in overcoming the challenges of implementing MTB-MLE in the country.
UST Faculty of Arts and Letters Dean Prof. Marilu R. Madrunio, Ph.D., said that the webinar organizers included students from the English Language Studies (ELS) Doctorate Program, namely: Krizza Mae Balisong, Joram Kim Corcuera, Nikko Domingo, Kreisler Fontamillas, Selenne Anne Leynes, Cherie Ann Luna, and Leeroi Christian Rubio.
More than 500 students and educators from different countries including Indonesia, Pakistan, Laos, Taiwan, Thailand, Tunisia, Australia, and the Philippines attended the event.