The UST GS Center for Conservation of Cultural Property and Environment in the Tropics (CCPET), in its capacity to help in the preservation of cultural heritage, visited churches around the Diocese of Maasin to assess the general condition and post-Odette damages on heritage churches of the Diocese.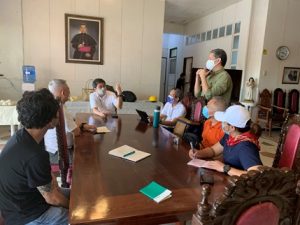 The onslaught of Typhoon Odette in Northern Mindanao and Visayas last December 2021 left eight provinces— Surigao del Norte, Southern Leyte, Bohol, Cebu, Negros Occidental, Negros Oriental, Guimaras, and Palawan without electricity, communication, food, and water. Aside from these, important infrastructures were also damaged—including heritage and culture sites.

The schedule included an on-line inception meeting attended by representatives from UST GS CCCPET, UST Faculty of Engineering, the Association of Structural Engineers of the Philippines (ASEP), Diocese of Tagbilaran, Diocese of Talibon, Diocese of Maasin, and the National Commission for Culture and the Arts.
The on-site debriefing was held on January 8, 2022, in San Miguel, Leyte attended by representatives from the Diocese of Palo, Diocese of Maasin, Office of Congressman Ching Veloso, and the CleMend Construction Company. The field evaluation covered heritage churches such as the Maasin Cathedral Complex, Amparo Chapel in Macrohon, Malitbog Church, San Juan Church, Matalom Church Complex, Hilongos Church Complex, Punta Chapel and the Baybay Church.

Fr. Mark Vincent Salang, Diocesan Chancellor who heads the Church Heritage Commission and an alumnus of the UST Central Seminary, was deputized by Maasin Bishop Most Rev. Precioso Cantillas D.D., to oversee the safeguarding, conservation, and rehabilitation of the heritage churches.

Aside from assessing damages to churches around the Diocese of Maasin, CCPET's initiative also aims to provide church-specific and diocesan-wide recommendations to rehabilitate the church complex and collections, and to formulate climate change resiliency and church cultural heritage protocols (principles and guidelines) that could be integrated in the development of the church's conservation management plan.

UST and the Diocese of Maasin have a standing and active Memorandum of Understanding (MOU) in church heritage conservation and research. The UST GS CCCPET response mission was logistically supported by the Department of Tourism Region 8, under the leadership of Dir. Karen Tiopes; The Farm Guinciaman; Congressman Ching Veloso of the 3rd District of Leyte; Board Member Anna Veloso-Tuason; and the Office of Mayor Jose Carlos Cari of Baybay, Leyte.

The Center organized the Church Heritage Response Team (CHREST) composed of specialists, namely, Assoc. Prof Eric Babar Zerrudo, Ph.D. (Heritage and Development), Prof. Regalado Trota José (Church History and Archivistics), Asst. Prof. Michael Manalo (Church Architecture), De La Salle University Prof. Lessandro Garciano of Ph.D. (Heritage Engineering), Mr. Joselito Corpus (Architectural Conservation), Ar. Cham Odan (Project Management), Mr. Jefferson Chua (Climate Change), and Ms. Beverly Bautista (Coordination).