The University of Santo Tomas Graduate School Center for Conservation of Cultural Property and Environment in the Tropics (UST GS CCCPET), in collaboration with the UST College of Tourism and Hospitality Management (UST-CTHM) recently concluded Phase 2 of the Technical Assistance for the Nomination of Samar Island Natural Park (SINP) to the UNESCO World Heritage List.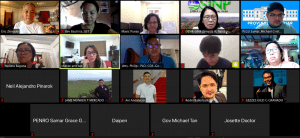 USTGS-CCCPET Director Assoc. Prof. Eric B. Zerrudo, Ph.D., a former UNESCO Philippines Commissioner for the World Heritage Convention, and the Focal Person for Intangible Cultural Heritage Convention of the Philippines, heads the project supported by UST CTHM team represented by its Dean, Atty. Gezzez G. Granado, DCL.
The UST team coordinated online meetings and monitored the collation of documents despite the limited mobility due to the COVID 19 pandemic.  The SINP World Heritage campaign is a concerted effort composed of the three Samar Island Provinces- Samar, Eastern Samar, and Northern Samar valuably endorsed by the SINP Protected Area Management Board (PAMB), Department of Environment and Natural Resources (DENR) Region VIII, and Department of Tourism (DOT) Region VIII.
The SINP Project highlights the biodiversity and endemicity of the Park worthy of UNESCO World Heritage conservation standards.  Phase 1 of the project, which ended in May 2020, investigated on the cultural mapping of the Samar Island. Phase 2, which ran from August 2020 to February 2021, produced the initial draft of the nomination dossier including the sustainable tourism and strategic development plan for Samar Island Natural Park.
Phase 3 is programmed to start in May 2021. In this phase, the USTGS-CCCPET continues and expands collaborative efforts with UST-CTHM and the UST College of Science to profile the biological significance of the property.