To forge a stronger partnership with two Asian universities, the National
Sun Yat-sen University (NSYSU), and Wenzao Ursuline University of Languages (WZU), UST Graduate School Dean Marilu R. Madrunio, Ph.D., Regent Rev. Fr. Dr. José Antonio E. Aureada, O.P., and Faculty Secretary Dr. Alejandro S. Bernardo, conducted an academic visit to Kaohsiung, Taiwan from March 4 to 6, 2018.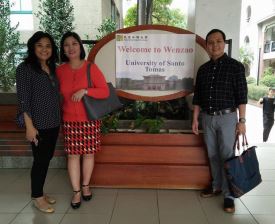 At NSYSU, the officials of the College of Management, Office of International
Accreditation Director Dr. Yuan-Ling Chen, Associate Dean Dr. San-Pui Lam, IBMBA and GHRM Program Director Dr. Jack ShihChieh Hsu, who is also with the Center for International Affairs, and Dean Dr. Shyh-jer
Chen and Vice President for International Affairs Dr. Chih-Wen Kuo hosted the meeting where joint internationalization programs and projects such as faculty and student exchange and research collaboration were discussed.
Part of the UST Graduate School visit to NSYSU was to learn more about Association to Advance Collegiate Schools of Business Accreditation (AACSB) since its business programs aim to be AACSB recognized NSYSU has been in the World's Top 1% in the ESI scientific fields and has received
high ranking in Times Higher Education, The Academic Ranking
of World Universities, Quacquarelli Symonds and Financial Times. Its business programs rank as one of the most preferred degree programs by international students because of the so-called "Five Excellences": Excellent Educational Objective, Excellent Faculty, Excellent Teaching and Research Environment, Excellent Students and Prior Interaction with Society.

At the Wenzao Ursuline University of Languages, Department of International Business Administration Chairman Dr. Hu, Hai-Feng, Political Science Department Associate Professor Dr. Mark W. Lai, Department of International Affairs Chairperson Dr. YuJane Chen and International and Cross-strait Cooperation Dean Dr. Lucia Jin-Yun Yang met with the UST Graduate School officials to discuss future international
collaborations.
The visit to WZU was made possible through the assistance of Dr. Aiden Yeh, an Assistant Professor at WZU Department of English who was a visiting professor at the UST Graduate School in 2017. In 2018, two from WZU will come to USTGS as visiting professors.

WZU is the only university in southern Taiwan that teaches foreign languages using the target language as the language of instruction. The 'Global Views Monthly: 2017' ranked WZU first among private technological and vocational colleges and universities in Kaohsiung and Pingtung Areas.

The academic visit to Taiwan hopes to revitalize the Graduate School's image and visibility in the global community through the promotion of the
identified programs of the Graduate School and forging international partnerships, linkages and consortia, to benchmark on international
standards and best practices in specialized areas of teaching
and research and to strategize initiatives towards establishing
networking with the two Taiwan Universities