Officials from Kyoto University visited the University of Santo Tomas (UST) and met with UST Graduate School (UST GS) Dean Dr. Marilu Rañosa-Madrunio, GS Faculty Secretary Dr. Alejandro S. Bernardo, and GS Professors Dr. Elizabeth O. Recio and Dr. Nelson C. Bool.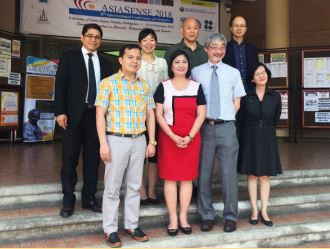 They discussed UST's education and research activities, its plans for future
development, and a possible collaboration between the two universities.
The visit concluded with a tour of UST's facilities. The Kyoto University delegation, headed by Executive Vice-President for Student Affairs and Library Services Professor Shinsuke Kawazoe, visited the Philippines with the aim of promoting student exchange between Kyoto University and Philippine institutions, as well as introducing the study opportunities available at Kyoto to Filipino students.