Given the success of the language immersion programs for foreign missionaries in 2021, the UST Graduate School organized another 2-month English and Filipino language training program in the months of May and June 2022. The second batch of participants consisted of foreign missionaries from Brazil, China, France, Indonesia, South Korea, Malaysia, Paraguay, Poland, United States of America, and Vietnam.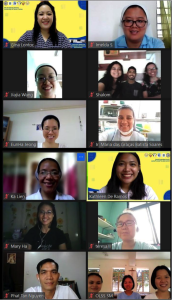 The UST Graduate School Internationalization Unit collaborated with the Dominican Province of the Philippines, the Conference of Major Superiors in the Philippines, the UST College of Education, and the UST Senior High School for the second batch of the 2-month-long language training program.
The programs include a range of topics such as active listening, oral communication skills, asking permission and expressing apologies, and expressing feelings and opinions on social issues which are relevant to the day-to-day engagement of the foreign missionaries in their respective ministries.
The program is part of the outreach component of the Internationalization Unit of the UST Graduate School, contributing to the 500 years of Christianity in the Philippines in line with the theme "Gifted to Give."