The COVID-19 crisis has brought tremendous pressure on Higher Educational Institutions in the Philippines, forcing them to postpone some internationalization efforts. With the after-effects that the pandemic has wrought on the globalized world, there is a need to revisit these issues on internationalization, to question old assumptions about it, and make the necessary suggestions to keep HEIs strong despite overwhelming odds. Therefore, academics, leaders of HEIs, government leaders, and the various stakeholders needed to revisit and reassess their internationalization strategies. The pandemic cannot stunt the inevitable push of the local HEIs that make their way toward fulfilling their goal to be at par with the best of the world's universities.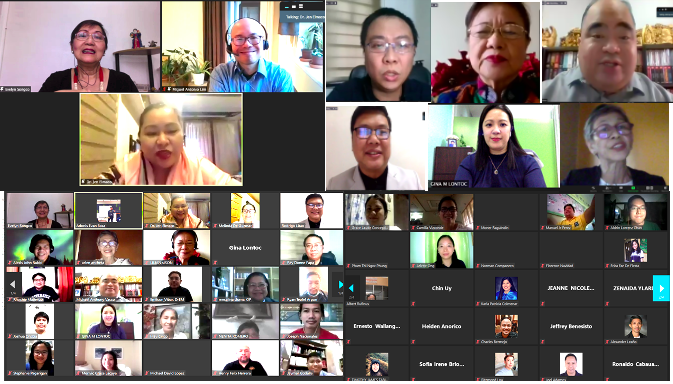 The webinar titled "Internationalization of Higher Education Institution amidst the COVID-19 pandemic" was held last December 9. 2020, from 3:00 PM to 5:00 PM via zoom. More than 100 participants from all over the country participated in the online event. The welcome message was delivered by UST Graduate School Regent Rev. Fr. Rodel Aligan, O.P, while the opening remarks were delivered by UST Office of International Relations and Programs Director Prof. Lilian J. Sison, Ph.D.
The panel of presenters was composed of: Manchester Institute of Education, University of Manchester, United Kingdom Impact Coordinator Dr. Miguel Antonio Lim, South East Asia Chapter of the Marie Curie Alumni Association Chairperson and the designated Third Country Contact Point of the Marie Skolodowska Curie Action of the European Union Commission Dr. Jenny Lind Elmaco, and, the Grants Supports Specialist from the University of Deusto, Bilbao, Spain Ms. Icy Anabo.
The presentations were followed by a panel discussion by the International Relations of the UST Faculty of Arts and Letters Coordinator Prof. Arlen Ancheta, Ph.D. and UST College of Science Dean Prof. Rey Donne Papa, Ph.D., as reactors. The webinar was moderated by Prof. Evelyn Songco, Ph.D., a Research Associate from the UST Research Center for Social Science and Education (RCSSED), and Prof. Rodrigo Litao, Ph.D., the Lead of the UST Graduate School Education Cluster. The closing remarks were delivered by UST Graduate School Dean Prof. Michael Anthony Vasco, Ph.D.