Language is the most powerful means through which gender discrimination and sexism are often committed and demonstrated. In alignment with the objectives established by the United Nations Sustainable Development Goal No. 5, Gender Equality, the UST English Language Studies Society (ELSSOC) under the Faculty of Arts and Letters held the webinar "HERSTORY: Inqueeries on language and gender construction" on March 15, 2022.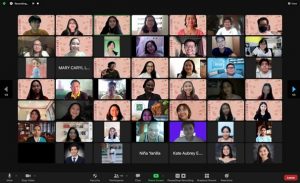 The discussions focused on the diverse field of language and gender in relation to different societal topics that are linguistically experienced in one's professional or academic background. The speakers highlighted how the role of linguistics in gender equality can be attained when everyone is addressed through language as persons of equal dignity and respect.
As the event aims to build an engagement among women-leaders and promote gender inclusivity, the guest speakers were Senator Risa Hontiveros, the current Chairperson of the Committee on Women, Children, Family Relations, and Gender Equality, Dr. Joey Andrew Lucido Santos, an English lecturer at King Mongkut's University of Technology Thonburi in Bangkok, Thailand, and two professors from the Department of English and Comparative Literature of the University of the Philippines Diliman, Dr. Lalaine F. Yanilla-Aquino and Dr. Aileen Salonga.
Headed by the ELSSOC Adviser, Dr. Rachelle B. Lintao, ELSSOC President Marianne M. Manalo, and ELSSOC Auditor Mary Caryl O. Lozano, the virtual event took place in March, to commemorate and align its agendas with the International Women's Month.
SDG #5, Gender Equality, states that equality of men and women are basic human rights that cannot be preserved unless women and girl empowerment were essentialized while expanding the numerous societal-sectors necessary to build a stronger community.
UST ELSSOC Auditor Mary Caryl Lozano, one of the project heads, explained that "language and gender is an interdisciplinary field of research, wherein our inquiries about gender identities and their impact on shaping and defining our future selves are answered."
In her short speech advocating for each and everyone's "Healthy Buhay at Hanapbuhay", Senator Risa Hontiveros acknowledged and thanked Filipinos (particularly OFWs, farmers, women, and the LGBTQIA+ community), for their hard work and dedication for not only contributing to the improvement of our nation but for also advocating for everyone's equal rights.
Dr. Santos shared his analysis of semiotic construction of transgender women, in which these women remain under the heteronormative culture and marginalized community. These are to be taken as a start off point in opening the discussion of trans discourse.
Dr. Aquino discussed the importance of gender representation and education based on the teachings written in one's literary and academic writings, and how these resources can impact a child's mind and awareness on how they can view themselves, their culture, their country, and the people around them.
The last speaker, Dr. Salonga, reminded the audience to keep challenging dominant gender ideologies and gender constructs to disrupt unequal gender and gendered relations of power, and make way for the more vibrant realities of our intersectional lives on the ground.
UST ELSSOC President Marianne Manalo, concluded the virtual event through strongly encouraging the audience to choose leaders that would uplift the voice of different gender identities, champion safe spaces for women and children, and walk the same path with language majors in believing that language can defy the structures of patriarchy, as well as gender issues and politics.