A year after the onset of the community quarantine necessitated by the pandemic, economic worries persist at a macro and micro level. To get expert insights on the Philippines' economic forecast, mid- and post-COVID, the Artlets Economic Society of the UST Faculty of Arts and Letters held a webinar titled "Economic Outlook 2021: The Cost of Our Choices" on March 1, 2021, through Zoom.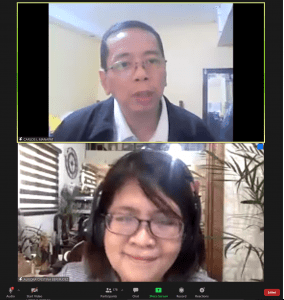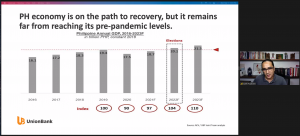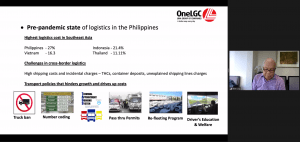 Serving as speakers were: UnionBank Chief Economist Mr. Ruben Carlo Asuncion, Lina Group of Companies (LGC) Chairman and Bureau of Customs Commissioner Mr. Alberto Lina, and UST Department of Economics Chair Assoc. Prof. Carlos Manapat, DBA.
Based on a joint team analysis conducted by UnionBank Philippines (UBP) and Aboitiz Equity Ventures (AEV), Asuncion's talk was titled "Are we there yet? A return to a pre-COVID-19 PH economy". While he forecasts that the Philippine economy is on the path to recovery based on the annual gross domestic product (GDP), it is in 2022 that the Philippine economy will likely reach pre-pandemic levels. It is expected that Gross Capital Formation will grow rapidly in 2021, to be led by public construction because private sector sentiment remains subdued.
Asuncion added that if vaccines are distributed widely, election spending may boost private consumption and will likely return to pre-COVID levels in 2022. Hedging that the AEV-UBP joint research is conservative compared to other forecasts by groups such as the Asian Development Bank and the International Monetary Fund, Asuncion posits that it is possible to reach pre-COVID levels in 2021 after widespread vaccination if the government would meet its spending target, the teenage demographic would be able to go out and spend, and private construction would resume normal activity by the second half of 2021.
Manapat's lecture was titled "Economic situation amidst pandemic and the road to economic recovery." He briefly summarized the state of 2020 Philippine economics in which gross national income, gross capital formation, OFW remittances, direct foreign investment, exports, and imports, among others, drastically decreased in the second quarter of 2020.
As the Philippines moves forward to the 'better normal', Manapat says that he agrees with figures from the Philippine Statistics Authority (PSA) that a 'v-shaped recovery' is feasible. Based on his research, he forecasts a "positive 1.2 percent in GDP growth rate by the second quarter of 2022."
Lina spoke on the topic "The Philippine Logistics Industry in 2020 and the 2021 Outlook." Over the last 40 years, the Lina Group of Companies (LGC) has been heavily involved in logistics, among other industries, and has facilitated the flow of goods, people, and information. The Chairman, fondly calling LGC "Ang Kargador ng Bayan", said that the Philippines has the highest logistics cost in Southeast Asia due to high shipping costs and incidental charges like terminal container handling charges (THCs), container deposits, unexplained shipping lines charges, and inimical transport policies.
While these factors are not new, the community quarantine also increased demand and difficulty in transport and delivery of goods in unprecedented ways. For 2021 and beyond, LGC expects a continued spike in e-commerce and express delivery services. It will result in "coope-tition" among different logistics companies in the form of collocated warehouses, shared spaces and services, and subcontracting.
Over 170 UST students and guests virtually attended the three lectures.