The UST Ebi Team headed by College of Science Professor Mary Beth
B. Maningas, Ph.D., is this year's regional winner in the Invention Category
for patented inventions (Tuklas) during the Regional Inventions Contests and Exhibits (RICE) 2017.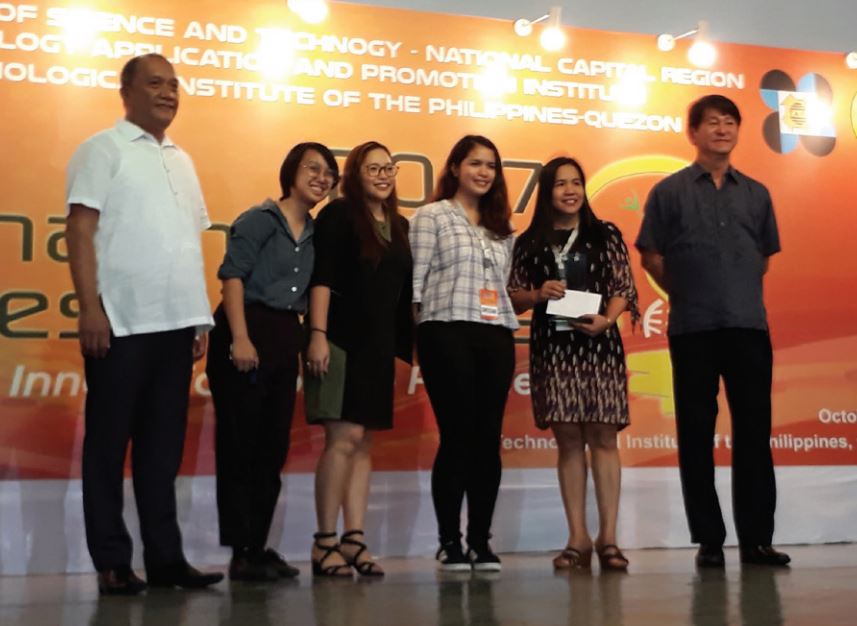 The event held from October 3 to 5, 2017 at the Technological Institute
of the Philippines was spearheaded by the Department of Science and TechnologyNCR and Technology Application and Promotion Institute (DOST-TAPI).

The team presented the JAmp Alert: Rapid DNA amplification for the detection of White Spot Syndrome Virus in shrimps.

The JAmp-WSSV Detection kit is based on loop-mediated isothermal amplification using sequence-specific amplification at one temperature condition. It is simple, cost-effective, and able to yield results
within an hour, making it suitable for on-site
applications. This invention was granted
Patent no. 1-2013-0158 last July 2017, the first patent granted to the university.
Other members of the team are Benedict Maralit, Ph.D. (Phil. Genome Center), Amalea Nicolasora (RITM), Krislyn Grace Importante (UST Graduate School), JalizahJaira Lim (UST Graduate School), Sharlaine
Joi Ann Orense (UST College of Science), Engr. Patrick Ellis Go, Ph.D. (UST Faculty of Engineering) and Dr. Christopher Caipang (Temasek Polytechnic, Singapore). Maralit and Nicolasora were students of Maningas
at the UST Graduate School with whom Manigas started working on the project in 2013.

Maningas is a researcher at the Research Center for the Natural and
Applied Sciences RCNAS and a professor of the Department of Biological Sciencesat the College of Science and the UST Graduate School.