As part of the Global Internship Experience (GIE) agreement between the
University of Santo Tomas-College of Rehabilitation Sciences (UST-CRS)
and the Seton Hall University (SHU), four interns from CRS were at the SHU
for the entire month of November 2017.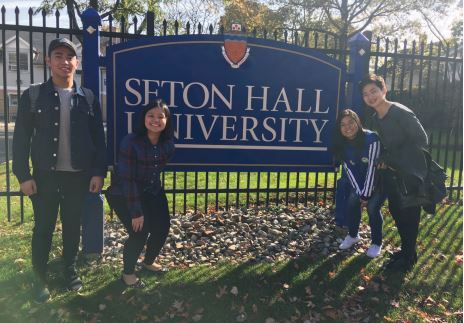 Speech Language Program (SLP) students Marielle Longno and Camille
Marcelino together with Sports Science (SpS) students Alliana Mijares and
Alexander Villa went to SHU clinical and training facilities in New Jersey and New York, USA, accompanied by CRS Assistant Dean Ma. Georgina Mojica.

Also in November, the interns from the Sports Science Department
commenced its affiliation with SHU. Mijares and Villa observed and shadowed the SHU Athletic Trainers in the huge and state-of-the-art sports facilities of SHU.
Similar to the SLP and Occupational Therapy (OT) interns, the SpS interns also observed the cases under the Masters in Athletic Training program of SHU.
The expansion of partnership aims to produce globally competitive professionals. This GIE program between the two institutions has been ongoing since January 2015. Two interns from SHU SLP went to Manila for a month to observe the UST-CRS clinical affiliation sites including the community-based rehabilitation service in Abucay, Bataan.
This was followed by another set of SHU interns who came in January 2016. By February 2016, the first UST-CRS interns from the SLP program went to SHU for a month to observe clinics, schools and a hospital facility. Aside from the clinical sites, the interns joined the SLP masters class where they had the opportunity to interact with students from SHU.
Following a successful pilot run of the GIE both inbound and outbound, it was the turn of the students from the Occupational Therapy Department to engage in the program in November 2017.