The University of Santo Tomas welcomed a delegation from the Embassy of Belgium, led by the Ambassador of Belgium to the Philippines His Excellency Michel Parys, on January 16, 2022, at the Main Building. Top administrative officials and academic officials of the College of Rehabilitation Sciences met with the Ambassador regarding partnerships and projects.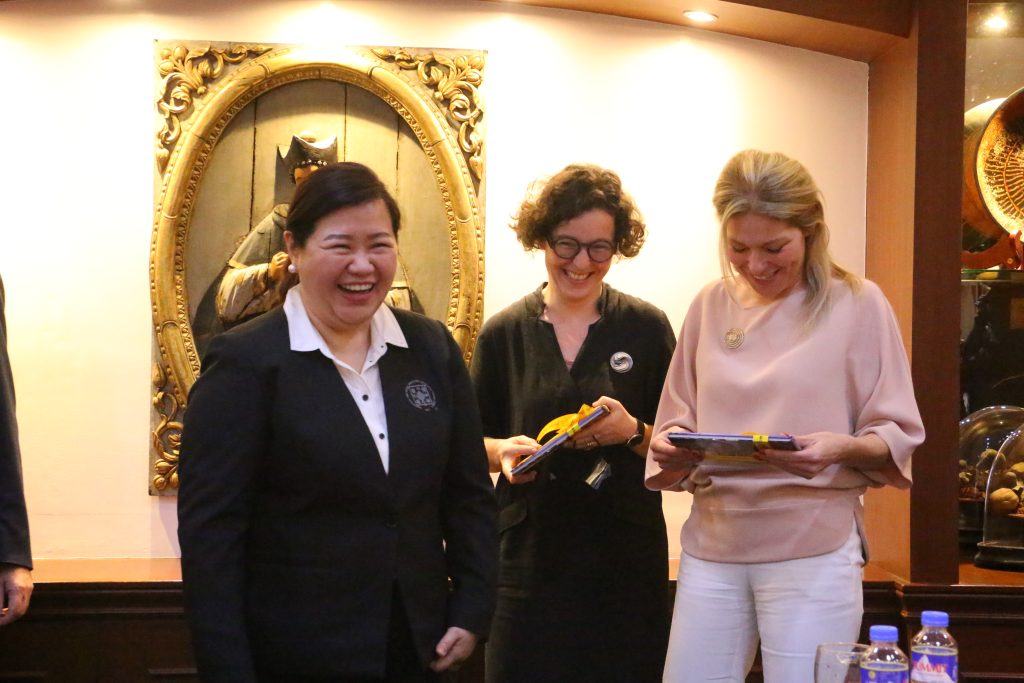 After first being welcomed by the Office of Public Affairs Director Asst. Prof. Joreen Rocamora, Ph.D., and paying a courtesy call upon the Vice Rector Rev. Fr. Isaias Tiongco, O.P., the Ambassador graced a meeting at the Rector's Hall, with UST representatives led by Vice Rector for Academic Affairs Prof. Cheryl R. Peralta, DrPH, and Thomas More University (TM) of Applied Sciences representatives, International Coordinator Dr. Kirsten Schraeyen and researcher Dr. Dorien Vandenborre.
Also present at the meeting were: Office of International Relations and Programs (OIRP) Director Prof. Lilian J. Sison, Ph.D., OIRP Associate Director Prof. Karen S. Santiago, Ph.D., SIMBAHAYAN Community Development Office Director Asst. Prof. Froilan A. Alipao, College of Rehabilitation Sciences Dean Assoc. Prof. Anne Marie C. Aseron, CRS Regent Rev. Fr. Joaquin Valdes, O.P., CRS Assistant Dean Asst. Prof. Ma. Georgina D. Mojica, CRS Secretary Asst. Prof. Arlene C. Chiong Maya, CRS Community Development Coordinator Asst. Prof. Christian Rey D. Rimando, CRS Department of Speech Language Pathology Chair Ms. Judith A. Damian, and Embassy of Belgium Public Diplomacy Officer Ms. Mikaellah Grace Vinluan.
In 2022, the TM-UST team submitted a proposal to a funding agency supporting partnerships between Universities in Flanders and in Asia. The project proposal focused on helping people with disabilities (PWDs) gain access to rehabilitation services in one of the islands in Rizal. Such a proposal prompted the visit of H.E. Parys to the University.
The UST-CRS Department of Speech Language Pathology (SLP) partnership with the Thomas More Department of Speech Pathology and Audiology in Antwerp, Belgium began in 2017 when Schraeyen invited Mojica to co-write the Erasmus KA 107 Mobility Program application, which is an exchange of academic staff from the two institutions to study, teach or train, based on the staff's expertise for a short duration.
Upon its approval, the first mobility exchange was in August 2019 when Schraeyen visited UST for the first time. In December of the same year, Mojica and Speech Language Pathology academic staff Veronica Yu went to Antwerp to deliver lectures, meet with the students and academic staff of TM, and observe the SLP program there.
In 2020, Dr. Dorien Vandenborre visited UST, where she provided UST SLP students perspectives on Stroke rehabilitation. Also in UST were three SLP students of TM, who shadowed the UST SLP students in their internship program for over a month. The mobility was cut short by the pandemic, which also led to the cancellation of the planned visit to Antwerp by Damian and Czarina Maximo.
Not to be deterred by the pandemic, all teaching-learning activities between the two institutions shifted online in 2021 and 2022. These activities included participation in the Collaborative Online International Learning, International Days at TM, research presentations, joint case management/discussions, among others.
One of the many significant gains from this collaboration is the inclusion of UST in the SLP International Network (SLP-IN). This is a network of 21 universities in 16 countries, mostly from Europe. Outside of Europe, there are two universities in the USA, one from Hong Kong, one from Taiwan, and one from the Philippines. The SLP-IN is devoted to advancing the profession of SLP by networking through education, research and professional practice.