The University of Santo Tomas (UST) and SEAOIL Philippines, Inc., signed a Memorandum of Agreement (MOA) to officially name the Marketing Management Department of the College of Commerce and Business Administration a Market Research Partner. The MOA was signed on September 18, 2020.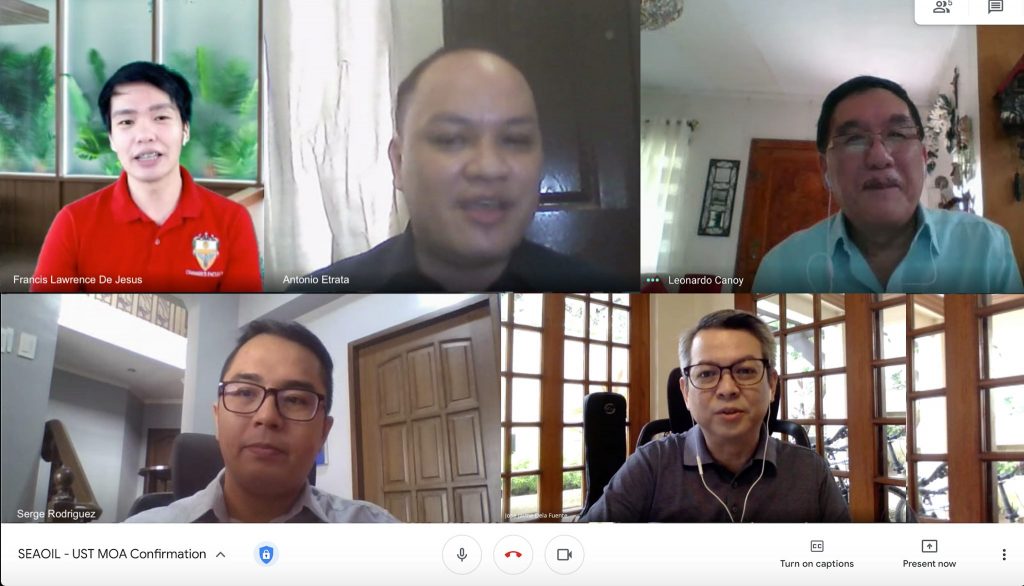 Representing UST in the signing were Vice-Rector for Academic Affairs Prof. Cheryl R. Peralta, DrPH, Dean Leonardo M. Canoy, Jr., Ph.D. SEAOIL Philippines, Inc., was represented by its Vice President for Corporate and Consumer Marketing Jose Jaime dela Fuente and Senior Manager for Retail Insights and Executions Mr. Serge Arnold Rodriguez.
Through the partnership, students under the Bachelor of Science in Business Administration, major in Marketing Management degree program will design, implement, and turnover marketing research deliverables for SEAOIL. According to Marketing Management Chair Francis Lawrence B. de Jesus, Ph.D., this will allow the students to achieve learning outcomes grounded on real-world scenarios from the perspective of the one of the biggest and most respected corporations in the country.
In his message delivered via Zoom, dela Fuente expressed his appreciation to UST for the partnership, especially at a time when the company assesses marketing sentiments as part of its "Fuel PH to Recovery" project. Earlier, Dean Canoy delivered a speech on behalf of the institution.
Present during the ceremonial confirmation that took place through google meet were: Dean Canoy, Dr. de Jesus, Dr. Etrata, Mr. dela Fuente, and Mr. Rodriguez.
Students who will be part of the research partnership will be under the supervision of Marketing Research faculty member Etrata.
Founded in 1978, SEAOIL is the country's leading and largest independent fuel company. It is a Filipino-owned company that offers products that range from automobile gasoline to industry-specific lubricants and service, and has over 350 stations across the archipelago. According to its website, SEAOIL works toward the use of biofuels as renewable sources of energy that can be produced locally. It started to sell and promote E10, the gasoline with 10% ethanol content in 2005, even before the Biofuels Act of 2006 was signed.