On the part of Brocal and Garcia, who both qualified for the BS-MS Civil Engineering accelerated program, they pursued Construction Management as a field of interest. Brocal's paper analyzed short-interval production scheduling, while Garcia compared all existing analysis methods in construction delays. Brocal, Jalova, and Garcia are all set to gain work experience in the United States.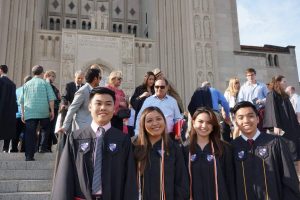 Difficult, challenging, worth it
When asked about what they will say to future cohorts of the dual-degree programs, all four were in unison in saying that the experience brought with it difficulties and challenges that required grit and determination. For her part, Tampon said, "It changed me as a person and I couldn't imagine myself not having the 2-year experience. So, grab the opportunity while you still can." Jalova emphasized encounter in his advice, saying: "While studying abroad, you will be exposed to a lot of new cultures and you will be forced to step out of your comfort zone. It is a unique experience of uncomfortable events, but it will make you grow and will bring out the best in you."
The twinning / double-degree program has been operational since 2016 and has two modes: the 3+2 BS Civil Engineering program and the 5+1 MS Civil Engineering program.