Second- and third-year BS Biochemistry students of the Faculty of Pharmacy – Department of Biochemistry garnered the Championship (1st) and the 3rd place in PACSKILABAN 2021, an inter-collegiate Chemistry Quiz Bee Competition held during the National Chemistry Student's Congress (NCSC) 2021, with the theme, "Synergizing Chemistry Professions in Transforming Communities." The virtual event was held on April 9, 2021.
Team A, who garnered the 3rd place, was led by their team captain, Louie Rince A. Suyo (3ABC), Joseph Michael G. Sioson (3ABC), Geaver Nicolei G. Cortez (3CBC), Aira B. Dacasin (3CBC), Charles Nylxon C. Norriega (3CBC), Maria Tricia G. Raza (3CBC), and Clare Robin U. Ramos (2ABC). The champion, Team B, was led by Joshua Lawrence Bautista (3BBC), Ryne James P. Gandia (3BBC), Sophia Marie J. Castillo (3BBC), Jaden G. Jardiolin (3BBC), Dana Isabelle A. Segui (3BBC), and Aivee Joy N. Nacor (3CBC). Both teams were coached by Mr. Dalton R. Fortin, MSc and Mr. Alexis M. Labrador, MSc.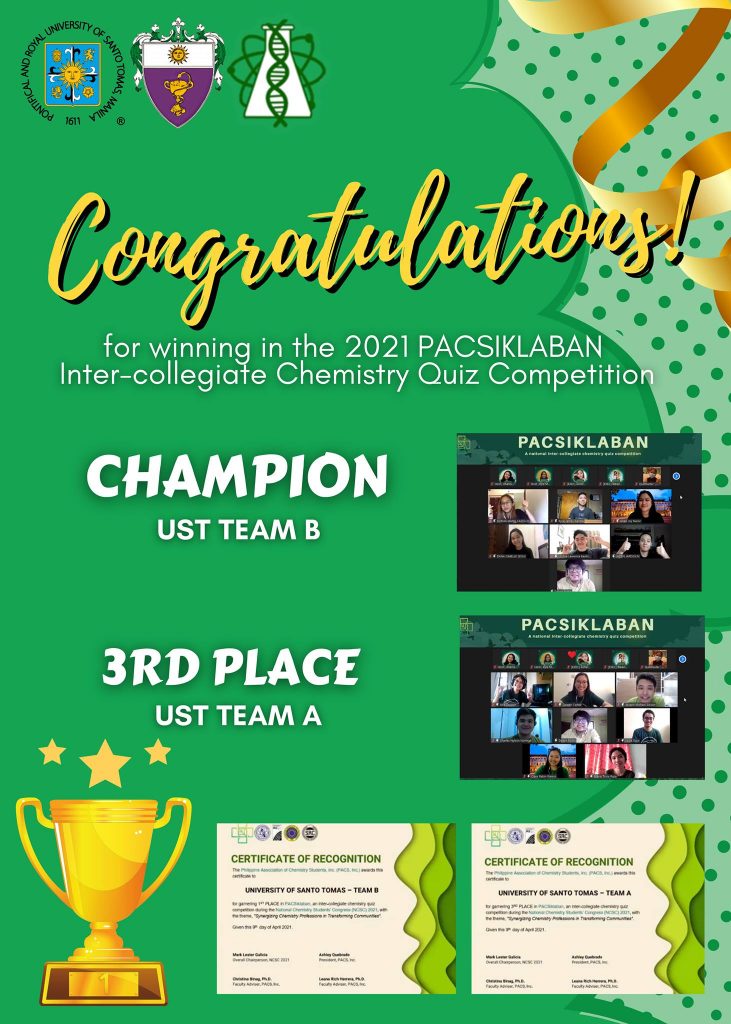 For this year, 6 universities/colleges participated: Adamson University Chemistry Program, Cagayan State University (CSU) Chemistry Program, Central Luzon State University (CLSU) Chemistry Program (Team A and Team B), De La Salle Health Science Institute (DLSHI) Biochemistry Program, University of the Philippines-Manila Biochemistry Program (2nd Place), and UST.
The PACSIKLABAN is an annual event of the Philippine Association of Chemistry Students, Inc. (PACS, Inc.) which aims to enhance and promote the chemistry and chemistry-related knowledge among universities and colleges that offer a Bachelor of Science in Chemistry, Biochemistry, and other allied programs. The competition has 2 major stages: the elimination round and final round. Each stage is composed of three substages, namely Easy, Average, and Difficult round.