With the total number of awards, UST won the coveted School of the Year distinction for the 6th straight year during the July 26, 2019 Quill Awards organized by the International Association of Business Communicators. The winning individual entries were the following: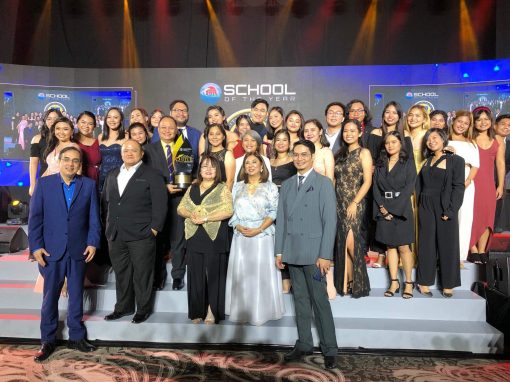 Communication Management Division
"Our World, Our Turn" by Isavela Deverae M. Atinaja
"Juan Vision. One Big Step – An IMC Plan for Coca-cola's World Without Waste Advocacy" by Currie Bonipaye D. Cator
"This is TOMCAT: The Tomcat-UST Rebranding Campaign" by Keanna Patrice B. Baduel
"Chihuahua Cosmetics – IMC Campaign Plan" by Chelsea Denise C. Cham
Communication Skills Division
The Flame website (abtheflame.net) by Julia Mari T. Ornedo
"A resilient daughter's silent battle cry" by Julia Mari T. Ornedo
"Dapitan: Balat" by Julia Mari T. Ornedo
"Tunog Tomasino: Para Bukas" by Jessa Janella G. Perdio
"Paskong Tomasino: The 2018 Christmas Station ID" by Christine Janelle J. Noriega
"'Magandang Tanghali' Newscast" by Fate Emerald Colobong
"Lifeline" by Maria Angela Faith Lucille B. Fernandez
"Para Kanino Ka Naglalaro?: The 2018 UAAP Video Series" by Trisha Marielle D. Lentejas
"Ukit" by Mildred Mira
"Balik USTe 2018 Video Series" by Kristen B. Manaligod
"Trash traps: Solution to reviving 'dead' Pasig River?" by Deniece Maegan M. Diala
"The Varsitarian: The official student publication of the University of Santo Tomas" by Christian de Lano M. Deiparine
"Editorial: Murder of PH languages, identity" by Christian de Lano M. Deiparine
"Editorial: Award to 'Mocha,' libel on UST" by Christian de Lano M. Deiparine
"BOTOmasino Supplement" by Klimier Nicole B. Adriano
"The Varsitarian News Wrap" by Julia Claire L. Medina
"Remembering Horacio Interactive Website" by Lexanne O. Garcia
"Saan Aabot ang 100 Pesos mo?" by Vincent Jerard M. Castillo
"V Exclusives" by Louise Claire H. Cruz
"The 4th UST National Campus Journalism Awards" by Job Anthony R. Manahan
"The 14th Creative Writing Workshop" by Elmer B. Coldora
"Podcast Convention 6 (PodCon 6): Upholding Media Credibility Amid the Age of Fake News" by Isabela Beatrice F. Gonzales
The Philippine Student Quill Awards is a junior division of Philippine Quill Awards, which is on its 17th year of recognizing exemplary communication research, programs, skills, and creative works in the field of business
The recognition is given by the Philippine chapter of the International Association of Business Communicators.