College of Architecture student Napoleon Marion Clarke F. Mui won the Silver Award under the Architecture category of the Asia Young Designer Awards (AYDA) 2020 for the Philippines. AYDA is an annual design competition organized for Architecture and Interior Design students by Nippon Paint in 15 Asian countries.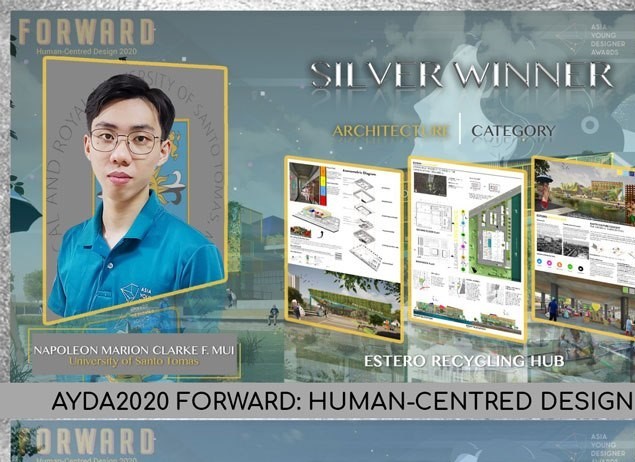 With the theme "Forward: Human-centered Design," the design competition called for a socially driven space to serve the community's needs. Project proposals were required to have a clear positive impact, especially for the booming population in Asian cities.
For his competition entry, Mui, who is in his fourth year, under the mentorship of Ar. Maria Lourdes Rigunay, proposed a humanistic design solution for the community of Estero de la Reina in Manila, whose problems include waste disposal and water pollution. The community-scale recycling center encourages a sustainable recycling system from the local garbage, which would then be a source of livelihood for the locals. Titled "Estero Recycling Hub," the project utilizes community participation, innovation, and architecture design to positively impact the locals.
Participants of the national competition were from the University of Baguio, Polytechnic University of the Philippines, De La Salle – College of Saint Benilde, and Batangas State University. In the AYDA 2020, the Gold Award in Architecture was won by Paul John Jandoc of the University of Baguio, while the Gold Award in Interior Design went to Maita S. Hagad of the De La Salle-College of Saint Benilde. Lauren Ghenrich L. Khoo of De La Salle-College of Saint Benilde won Silver for the Interior Design category.
The members of the Panel of Judges for the Architecture category include Ar. Maria Benita Regala of the National Housing Authority, National President Ar. Renato Heray of the United Architects of the Philippines, and Executive Director Ar. Richard Garcia of the Commission on Professional Practice.