The Office of Alumni Relations (OAR) held its first-ever Appreciation Night on December 7, 2018 at the Dr. Robert C. Sy Grand Ballroom of the Buenaventura Garcia Paredes, O.P. Building, Thomasian Alumni Center, to thank and acknowledge those who supported the office in their projects in unifying and strengthening the Thomasian alumni community.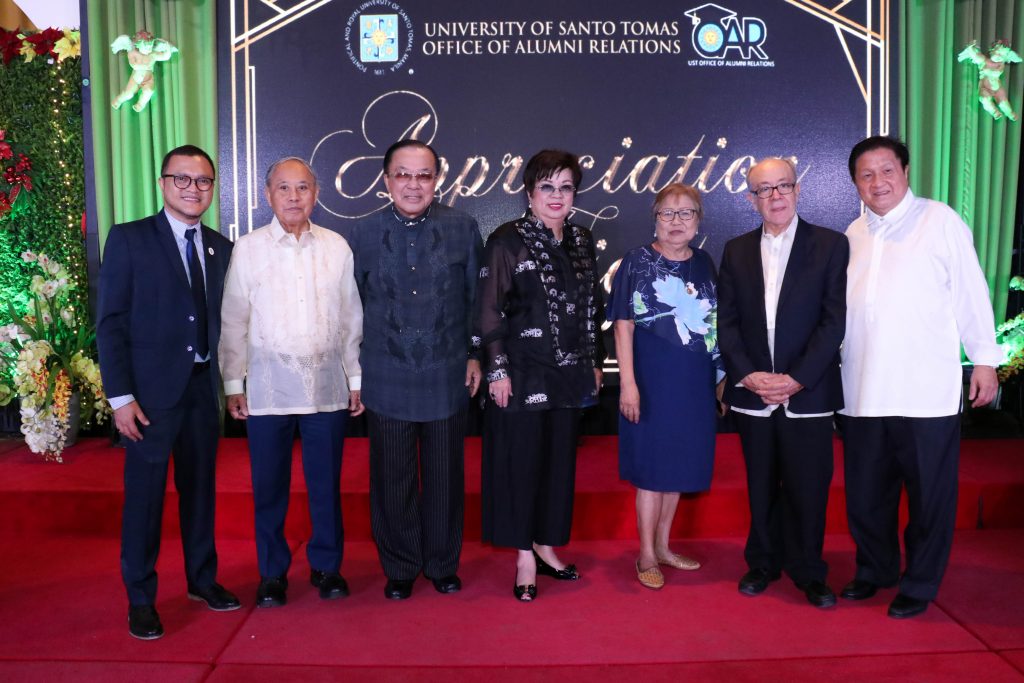 According to OAR Director Asst. Prof. Fredeswindo R. Medina, "This event is a symbol of sincere gratitude to our benefactors, partners and sponsors for their utmost support and generosity to all the activities that we have successfully accomplished throughout the years."
Since the establishment of the Office of Alumni Relations, the office has gained the trust and support of different individuals and companies as shown by the companies that are sponsors and partners of the Thomasian Alumni Card. The perks and privileges forged by the office and these companies have been used and enjoyed by thousands of Thomasian alumni across the country. The annual Rector's Cup, one of the projects handled by the OAR, has also been successful in raising funds for Thomasian student athletes who need assistance for their competitions. During the program, Medina thanked everyone for their relentless efforts and contributions that made the office stronger each year, saying that the success of the Alumni Relations is also the success of everyone.
Some of the awardees included: Partners of the Thomasian Alumni Card such as the Santisimo Rosario Parish, UST Museum, UST Miguel de Benavides Library, Hotel San Marco, Resorts World Manila, Winford Hotel, Solaire Resorts, and Belmont Hotel and Resorts. Also awarded were sponsors of the Alumni Relations' events that included Phenix Garuda, AIMM Builder and Construction Supply, Ironcon Builders and Development Corp, and Tokwing Construction Corp.
Awardees received glass plaques with the initials of the University of Santo Tomas. The event was hosted by Ms. Maita Oebanda of the UST Museum, an alumna of the Faculty of Arts and Letters and a frequent voice-over talent and host of various University events. Also present was UST Alumni Association Inc. President Dr. Evelyn Songco.
Dr. Jose Evangelista delivered an inspiring and heartfelt closing speech where he reminisced the early beginnings of the Thomasian Alumni Center or the Buenaventura Garcia Paredes, O.P. Building we know today. "It used to be nothing but a vision," said Dr. Evangelista. He thanked everyone who made this vision tangible and alive.