"You are the pillar of a strong partnership between the US and the Philippines," said United States Embassy Deputy Chief of Mission John C. Law, on May 4, 2019 at the Thomas Aquinas Research Complex where he was the 2019 St. Antoninus Professorial Lecturer of the UST Graduate School. He talked about the US-Philippines bilateral relations highlighting economy, security and people-to-people relationships as its pillars.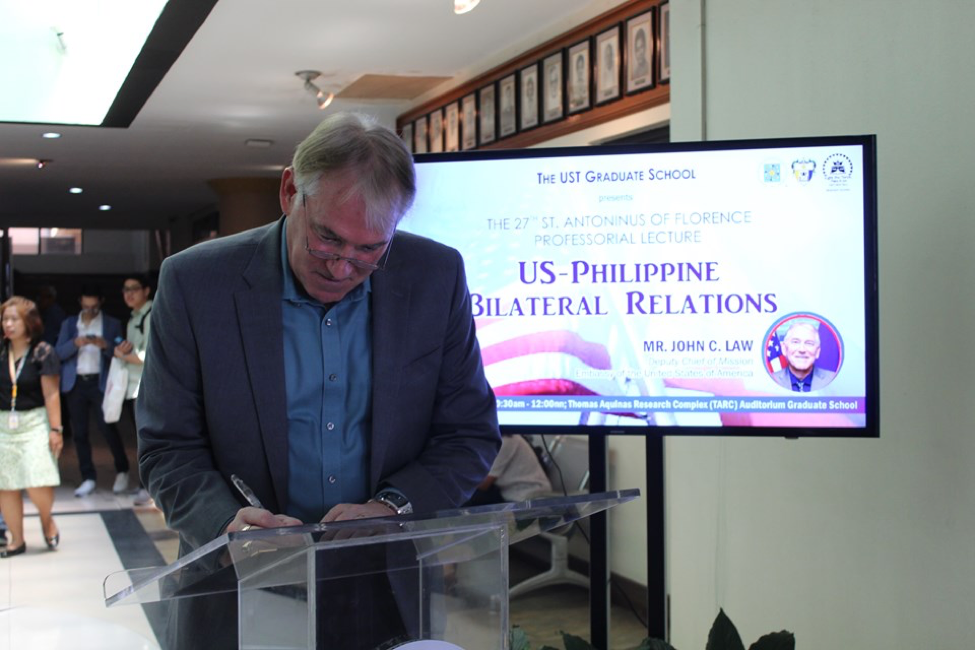 Law is a career member of the Senior Foreign Service, Class of Minister Counselor. He entered the diplomatic service in 1990. He has twice served previously as Deputy Chief of Mission, in Warsaw, Poland (2015-2018) and Panama (2011-2014). In Afghanistan he was State Department Director of the network of civilian Provincial Reconstruction Teams stationed in over 70 sites across the country. His other previous diplomatic postings include Prague, Madrid, Caracas, Santiago de Chile, Seoul, and Taegu.
UST Graduate School Dean Dr. Marilu R. Madrunio, in her welcome address, recalled the assistance and opportunities provided to her by the US Embassy in her fulfilment of her official duties as representative of UST as faculty member and administrator. She is the first Filipino recipient of the English as Foreign Language Foreign Educators Program from Georgetown University, Washington DC awarded by the US State Department in 2010.
Graduate School Regent Rev. Fr. José Antonio E. Aureada, O.P., in his closing remarks underscored the importance of trust in a relationship such as that of the US and the Philippines.
The St. Antoninus Professorial Lecture is held annually to honor St. Antoninus, Bishop of Florence, the Patron Saint of the UST Graduate School. This year's lecture was attended by graduate faculty and students from the fields of development studies, political science, public administration, economics, among others. Undergraduate students from the Faculty of Arts and Letters were likewise present.