For National Heritage Month, Thomasian alumni Prince Wico and Rancho Arcilla curated an exhibition on the architecture of 20th century Intramuros. Stemming from Wico's undergraduate thesis, the National Commission for Culture and the Arts (NCCA) housed "Istilong Intramuros: Identity by the Turn of the 20th Century" at their gallery from May 10 to 31, 2022.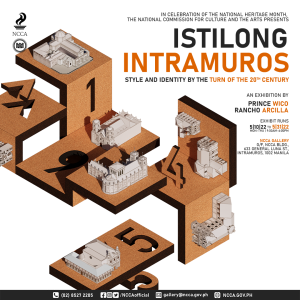 Since the contemporary design style in the Walled City is inspired by the Spanish-era colonial style, little is known about the architecture of the district after the Spanish occupation. With this, the exhibition is an attempt to shed light on the district's architecture focusing on the beginning of the 20th Century. It is important to note that architectural gems during this time were mostly destroyed during the Second World War, except for the San Agustin Church.
The exhibit, which is based on a book that is currently in development, aims to bridge the gap in the understanding and appreciation of Intramuros' unique character and stylistic identity by the end of the Spanish colonial regime. The exhibit is divided into two major parts: Housing the People, which explores the Bahay na Bato, its indigeneity, as well as its place as the prevailing architecture of Intramuros; and Housing God and King, which presents how power and dominance is projected in the churches, state buildings, palaces, and the fortifications of the Walled City .
Prince Wico is a Class of 2021 graduate from the University of Santo Tomas College of Architecture, and as an emerging professional in heritage work, he promotes the importance of contemporary innovation in the treatment of historic fabric.
Rancho Arcilla currently heads the Archives of the Intramuros Administration in Manila. Concurrent to this position, he also serves at the panel of the Intramuros Technical Committee on Architectural Standards, the review board of IA on all matters of new constructions in Intramuros. He has an MA in Philippine Studies from the University of the Philippines Diliman and a BA in Asian Studies from the University of Santo Tomas.