The UST Alumni Association in Brunei Darussalam (UST AAB) celebrated its 4th anniversary in The Capital Residence Suites located at Bandar Seri Begawan, Brunei on October 26, 2019. The event was attended by His Excellency Christopher B. Montero, the Ambassador Extraordinary and Plenipotentiary of the Republic of the Philippines to Brunei Darussalam. This also coincided with the induction into office of the incoming officers of the UST AAB by the Ambassador in the presence of UST Alumni Relations Director Asst. Prof. Fredeswindo R. Medina.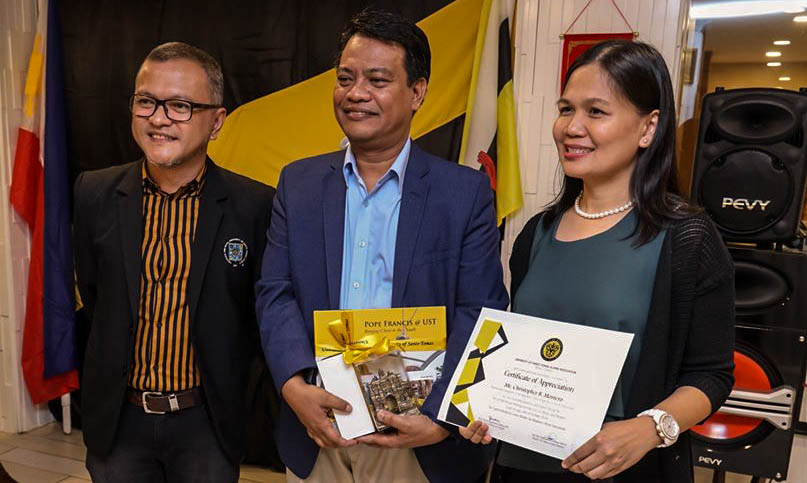 Ambassador Montero said in his speech that he looks at Thomasians with high regard because of the accomplishments they have achieved in Brunei and for the Philippines. The members of UST AAB may have dwindled in numbers but it is not the value that matters, it is the value and passion and the unity of purpose towards achieving goals as an organization.
As the ambassador of the Philippines, Montero also raised an issue that every Overseas Filipino Workers like him and the Thomasians before him face.
"Why did you have to leave the Philippines?" he asked. "And in the process applied the quality Catholic education you learned and imparted the Thomasian core values of competence, commitment and compassion in another country and not in our motherland?" he continued. "Because of the global network we have now, helping the country is no longer confined in its borders."
OFWs contributed an immense $34B in 2018 alone to the Philippines. The significant amount was earned and raised to uplift the lives of millions of Filipino families. Ambassador Moreno encouraged the Thomasians to continue spreading their wings for their fair share in the economy with their image as a Filipino Catholic in the global stage.
Newly-elected UST AAB President Ms. Teresa Cordova presented her plans for the organization in the year 2019-2020.
"The things that we love tell us what we are," said Cordova when she read a quote of St. Thomas Aquinas that inspired her to draw up UST AAB's incoming activities. Series of workshops, get-togethers, and fundraisings were presented to the community. "We love Adopt a Tiger," she continued. Cordova wanted to revive the said program to offer assistance to student athletes of the university. She encouraged her fellow compassionate Thomasians to unite and help the students who bring home pride and glory back to the university. "We love Bethany House, as well," she added. Cordova urged everyone to join their outreach program in Bethany House, a home for senior citizens in Brunei.
Cordova hopes that the members of the organization will be able to discover a new passion, leadership, and friendships in their 4th year as an alumni chapter.