'Aggregation' gives an Institute the authority to provide bachelor and licentiate degrees under an ecclesiastical Faculty. This was why the College of Theology of the Catholic University of Korea was able to award the canonical degree of Bachelor in Sacred Theology from the UST Faculty of Sacred Theology for the first time.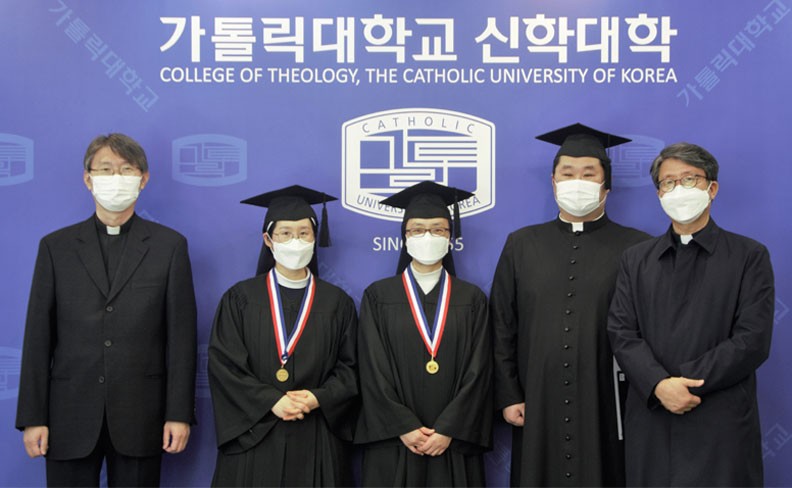 This became possible because of its aggregation to the UST Ecclesiastical Faculty, which was approved by the Congregation for Catholic Education on September 3, 2019.  It resulted in the graduation of 38 graduates on February 25, 2021.
Sr. Kyoungah Lee topped the batch, graduating Summa cum Laude, garnering an average of 95.6. Her thesis was "A Christological Study on the Concept of Persona in Christianity–Focused on Joseph Ratzinger's Theology of Relation." 
Due to the ongoing pandemic, simple ceremonies were held where Fr. Paul Yeongjoon Jeon, S.Th.D., Director of the College, handed the diplomas to the graduates.
In his message for the said occasion, the Dean of Sacred Theology, Rev. Fr. Rodel E. Aligan, O.P., S.Th.D., recalled how the event coincides with the 200th anniversary of the birth of St. Andrew Kim Taegon, the first native Catholic priest of Korea who was martyred in the 19th century.  As a young seminarian, the saint sought refuge in the Philippines, where he continued his studies in a Dominican convent in Bulacan.
"How appropriate then to celebrate this momentous occasion in our collaboration as we commemorate that original link between priestly formation in Korea and the Dominicans in the Philippines through the Faculty of Sacred Theology of the University of Santo Tomas," the Dean said.
Fr. Aligan also congratulated and encouraged the graduates, saying, "These may be the worst of times and yet also the best of times for you students. There will never be a time like this. As we honor and praise our own frontliners in this fight against COVID 19, you, too, will become frontliners for education as you minister to the Korean faithful.  Let this defining moment be your shining moments to let the light of Christ continue to shine in Korea and Asia as well."