At the time of her sudden demise in 2010, Ophelia A. Dimalanta, former Dean of the Faculty of Arts and Letters and founding Director of the UST Center for Creative Writing and Literary Studies, was considered by local and international literary critics and creative writers alike as one of the Philippines' top ten poets writing in English, regardless of gender.
But aside from her considerable production as a poet, dramatist, short story writer and critic, Dimalanta has also mentored a formidable host of Thomasian writers who have been or are currently in the forefront of Philippine literature and culture: National Artists for Literature Bienvenido S. Lumbera and the late Cirilo F. Bautista, UST Center for Creative Writing and Literary Studies (UST CCWLS) Director Cristina Pantoja-Hidalgo, Makiling High School for the Arts Director Victor Emmanuel "Vim" Nadera, Jr., UP Press Director J. Neil C. Garcia, and UP System Assistant Vice President for Public Affairs and Director for Alumni Affairs Jose Wendell P. Capili, to name a distinguished few associated with the academe.
Dimalanta's influence, though, as the literary doyenne from España is perhaps best feltin the genre where she had excelled the most, which is none other than poetry, the vanguard of the literary arts. But nearly a decade after her passing, how does the Thomasian poet figure in the contemporary literary scene?
The Achieve of, the Mastery
A quick survey of the latest installment of Gémino H. Abad's groundbreaking and definitive anthology of Philippine poetry from English collectively titled Man of Earth contextualizes the position of the Thomasian wordsmith who wrought poetry from English in contemporary times.
Of the 161 poets featured in The Achieve of, the Mastery: Filipino Poetry and Verse from English, mid-'90s to 2016, a substantial number (23) are Thomasians: Gloria A. Garchitorena-Goloy, Doris Trinidad, Ophelia Dimalanta, Cirilo Bautista, Albert B. Casuga, Recah A. Trinidad, Rita B. Gadi, Alice M. Sun-Cua, Eric Gamalinda, Merlinda Bobis, Joel Pablo Salud, Capili, Bino A. Realuyo, Garcia, Alma Anonas-Carpio, Ralph Semino Galán, Nerisa del Carmen Guevara, Ramil Digal Gulle, Lourd Ernest H. de Veyra, Allan Justo Pastrana, Carlomar Arcangel Daoana, Benedict Bautista Parfan, and Brylle B. Tabora.
Incidentally, three of these Thomasian poets are currently part of the UST CCWLS: Galán, Assistant Director, and Guevara and Parfan, Resident Fellows. (During the directorship of Dimalanta, Bautista and his fellow National Artist for Literature F. Sionil Jose were named as the Center's Senior Associates, while De Veyra and Gulle, along with Galán and Guevara were named as Junior Associates.)
Furthermore, most of these Thomasian poets have published individual books of poetry, the more prolific ones having published multiple titles, like Bautista (12), Dimalanta (7), Garcia (6), and Daoana (5). And they have won many national and international prizes for their verse-making. In fact, Thomasian poets have won a substantial number of prizes in the Palanca Awards for the Poetry in English category in the last ten years: Daoana for the poetry collections "The Elegant Ghost" (First Prize, 2012) and "Crown for Maria" (Second Prize, 2013); Angelo Suarez for "Exploratoria" (Second Prize, 2003) and "Else It Was Purely Girls" (Third Prize, 2004); Bobis for "Accidents of Composition" (Second Prize, 2016); Ramil Digal Gulle for"Afterhours, Afterlives" (Second Prize, 2000); and Mike Maniquiz for "Tornadoes and Other Poems" (Third Prize, 2003).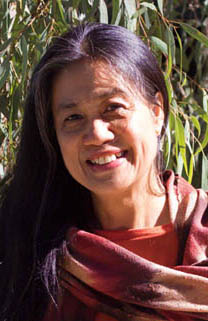 Not Only in English
The prominence of the Thomasian wordsmith in poetry is not only limited to English, since there is also an equal number of exemplary Thomasian poets writing in Filipino: Teo T. Antonio, Nadera, Michael M. Coroza, the Añonuevo siblings Roberto and Rebecca, Joselito D. Delos Reyes, Louie Jon Sanchez, Joseph Rosmon Tuazon, Joseph de Luna Saguid, and Paul Alcoseba Castillo, to mention the more visible ones. Two of these Thomasian poets, aside from also being part of the UST CCWLS as Resident Fellows, are very active in the contemporary literary scene: Delos Reyes is the current Chair of the UST Department of Literature and a board member of Philippine PEN, while Castillo is the latest First Prize winner of the Don Carlos Palanca Memorial Award for Poetry in Filipino for his collection "Luna't Lunas." But will the Thomasian poet's winning streak continue into the future?
UST Graduate School
There is no immediate danger that the Thomasian poet will disappear from the literary scene, even as most of the poets personally mentored by Dimalanta have already reached or about to reach middle age, for she had the foresight in the early 2000s to establish a Creative Writing program in the UST Graduate School. The 32-year old Castillo, who has an M.A. in Creative Writing, is a certified proof of the effectiveness of the program.
At present, aside from the more senior UST CCWLS Resident Fellows, two major Filipino poets boost the rank of the UST Graduate School Creative Writing faculty: Abad, UP University Professor Emeritus, who teaches a 'Poetry in English' workshop class; and Coroza, a Full Professor of the Ateneo de Manila University, who handles a poetry in Filipino workshop class. Abad and Coroza are Senior Visiting Fellow and Associate Fellow of the UST CCWLS, respectively.
Will the winning streak trickle down to the young poets based inside the España campus?
Undergraduate Creative Writing Program
The UST Faculty of Arts and Letters established in 2018 an undergraduate Creative Writing program to align its course offerings with the UST Graduate School, and to help ensure that the Pontifical University's legacy of excellence in the belle lettres would continue. And gauging by the enthusiastic participation of its first batch of Creative Writing freshman students and some senior Literature majors to a recently held poetry reading organized by Galán and UST CW Undergraduate Program Coordinator Chuckberry J. Pascual at the UST CCWLS Conference Room, to celebrate World Poetry Movement (Movimiento Poético Mundial) initiated by Medellín International Poetry Festival Director Fernando Rendón, poetry indeed, whether in English or Filipino, is very much alive inside the campus of the Pontifical University.