Ms. Sherill Tesalona, MSMT of the Department of Medical Technology, along with BS Medical Technology Batch 2019 graduates Raphael Luis G. Talao, Heindrich V. Baluyot, Roqueson Jerrold E. Cruz, Camille Andrea A. Palpal-latoc, Pete Lyndon T. Reginio, and Oscar Patrick C. Zalamea III, won the Best in Poster Presentation – Experimental Research Category of the Philippine Association of Medical Technologists, Inc. (PAMET) Research Forum 2020, which took place on September 17, 2020. Tesalona and the Batch 2019 graduates worked with Evelina N. Lagamayo of the St. Luke's Medical Center – Global City, and Gianne Eduard Ulanday of Ateneo de Manila University.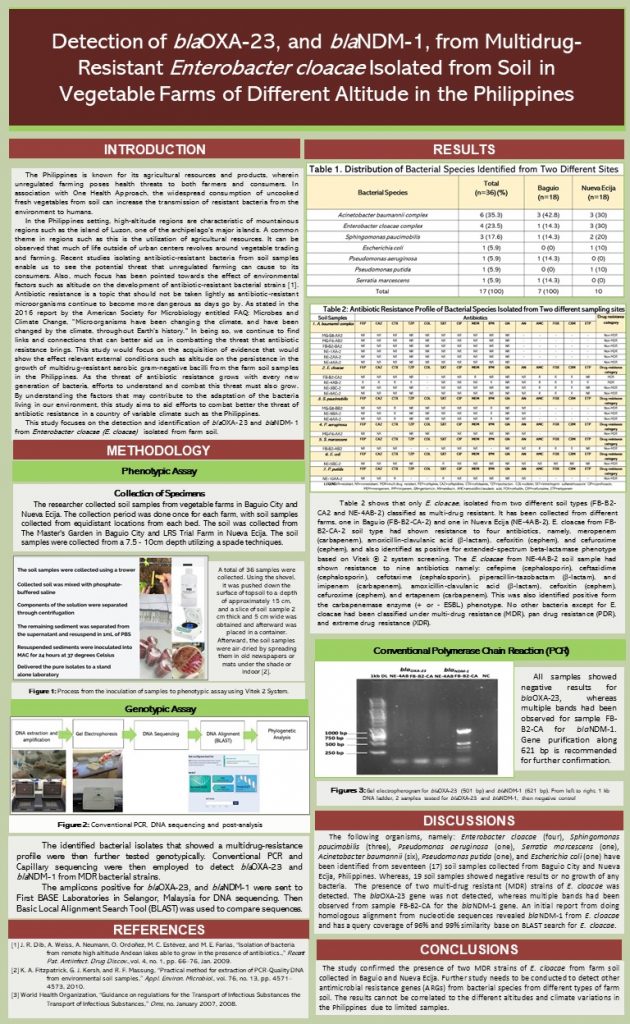 The research entitled "Detection of blaOXA-23, and blaNDM-1, from Multidrug-Resistant Enterobacter cloacae Isolated from Soil in Vegetable Farms of Different Altitude in the Philippines" acknowledged the problems posed by unregulated farming to farmers and consumers. In particular, the consumption of uncooked fresh vegetables "can increase the transmission of resistant bacteria from the environment to humans." Thus, the study focused "on the detection and identification of blaOXA23 and blaNDM-1 from Enterobacter cloacae isolated from farm soil." According to the paper's abstract, "identifying bacteria from farm soil up to species level and antimicrobial susceptibility testing was made using the VITEK® 2 system. The identified bacterial isolates that showed a multidrug-resistance profile were then further tested genotypically. Conventional PCR and Capillary sequencing were then employed to detect blaOXA-23 and blaNDM-1 from MDR bacterial strains. "
The study was able to confirm the presence of bacteria from soil samples in Baguio and Nueva Ecija, and the researchers recommend further studies on other antimicrobial resistance genes (AGR).