College of Rehabilitation Sciences faculty members Ms. Joyce Anne PoncianoVillafania, Ms. Honey Joy C. Capiral, and Ms. Francesca Isabel T. Villanueva of the Department of Speech-Language Pathology of the University of Santo Tomas presented their research work titled "Cebuano Articulation Test (CAT) for Fourto Seven-Year Old Cebuano-Speaking Children: A Development, Validity, and Reliability Study" at the 13th Philippine Linguistics Conference (13PLC) held at the University of the Philippines – Diliman from November 14 to 16, 2018.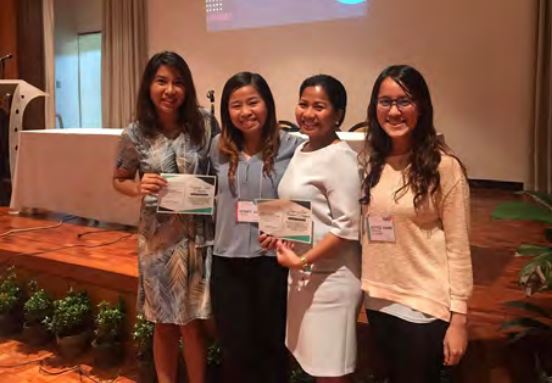 Ponciano – Villafania, Capiral and Villanueva shared how they applied linguistics in the area of phonology, the study of a language's system of
sounds, in the clinical context of speech-language pathology. In their presentation, they discussed their application of the characteristics of the Cebuano language in order to develop a picture-naming test that will elicit the speech sounds that Cebuano-speaking 4 to 6-year old children can produce. This test is called the Cebuano Articulation Test (CAT), which speech-language pathologists will use to correctly diagnose Speech Sound Disorders in children who have Cebuano as their mother tongue or first
language.
The researchers shared that CAT was valid because it had an appropriate number of items that can test the sounds in the Cebuano language. They also indicated that it is reliable because it produced very little variation between speech-language pathologist users when administered on
the same child, and had very little variation of results across trials.

The conference aimed to share advances in linguistics, or the theoretical study of languages, of the Philippines. It also discussed application of linguistics in other disciplines and contexts.