The Faculty of Arts and Letters hosted its 52nd St. Thomas More Lecture featuring renowned social anthropologist Prof. Mary Racelis on March 20, 2021 via livestream.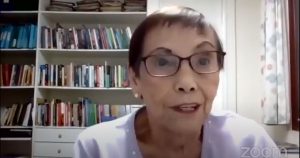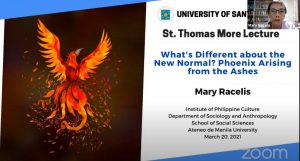 Brave new post-pandemic world
In her lecture entitled "What's Different about the New Normal? Phoenix Arising from the Ashes", Racelis spoke on how the Filipino society can emerge, rebuild, and live through the Covid-19 pandemic.
On one hand, Racelis examined the country's losses in various sectors after a year since the first lockdown was implemented. In the economic aspect, Racelis's findings indicated that various sectors were plagued with unemployment and income losses due to closures of businesses. Moreover, the pandemic forced the rise in prices of basic goods, caused the nationwide economy to fall in a downward spiral, crippled the public transport, and precipitated huge loans for vaccine purchases.
In the health sector, Racelis noted that the poor communities were stricken by food insecurity, which leads to hunger and malnutrition, and also lack of information on Covid-19 guidelines. The health status and access of the poor, prior to the COVID-19, was already difficult, and the Covid-19 pandemic presented itself as a new threat, adding more trouble. "It is not new that their health situation has a very hard time responding to help the majority of population of the poor in the city," she said.
"The public health measure, while desirable, was really unrealistic in many cases," Racelis said. "When you live in a small room in a structure in an informal settlement, where water is difficult to get, how do you wash your hands and (practice social distancing) and get penalized if you don't?" she said.
Moreover, Racelis highlighted the importance of mental health. "Now we realized that mental health is real. It's serious. It's not something to be ashamed about. It has to be recognized in its own terms and it must be dealt with in a humane and a strong humanitarian, healthy way," she said.
In terms of education, online learning became the forefront of bringing knowledge to students since the pandemic halted the face-to-face sessions. According to Racelis, the problems it presented include weakening of children's knowledge due to access to equipment, parents doubling roles and serving as tutors, and social restrictions.
"Even though they want to participate in this virtual learning, it is often undermined by their situation and lack of access to technology, even though many local governments have actually allocated e-systems for them," she said.
Rising from the ashes
On the other hand, the gains which Racelis presented include the enhanced creativity and risk-taking attitudes of Filipinos. "We learned new skills. We have (learned the) ordering and delivering (through) online selling, connecting directly with the rural producers and a lot of NGO groups in economic spheres, which helped mobilize so that connection can be made," she said.
"Who knew self-reliance has become so important, people have to do this especially because you are never sure when assistance is going to come either from the government of the private sectors," she said. "If (assistance) comes, wonderful. But you cannot rely on it, so you have to do something on your own. You know, sariling-sikap," Racelis added.
For the society to be reborn, Racelis said that community and local government level planning must be mapped out. According to her, planning from the government becomes crucial because of the circumstances and its solutions differ from one area to another.
"The local government has to come to terms of it and from that collective awareness should come national government policy in support of different types of issues that need to respond to reflexively through congress through being the government of national country," she said.
According to Racelis, implementing specific economic reform would mean re-examining large and costly infrastructure projects, then reallocating budgets more heavily toward social services in behalf of the poor.
Racelis stated that the government must also maintain price stability, support small and medium-sized enterprises, promote agricultural productivity, reorganize ill-fitting policies, and recognize civil society roles as intermediary groups.
For Racelis, reorienting a solidarity economy means putting the people and the planet at the front and center in a globalized market. "Economy cannot be just blind growth and profit maximization as its values set as its criteria of success. It has to be more than that," she said. "Formulate societal frameworks, whose economic practices align with values like solidarity, participatory democracy, equity in class, ethnicity, gender, and age," she said.
Capping her lecture, Racelis underscored the importance of demanding change to mold a better world—a lesson that the Filipino Phoenix must rise above from, leading to its glorious rebirth. "Let us all demand transformation. Let us all do our share to create a brave new post-pandemic world that is sharing, inclusive, democratic, and socially just," Racelis said. "That regards all people with respect and dignity. And that is firmly committed to the observance of human rights and the rule of law," Racelis added.
Racelis is a faculty member at the Department of Sociology and Anthropology of Ateneo de Manila University. She is also serving as a research scientist in the Institute of Philippine Culture of the same university.
The St. Thomas More Lecture is the most prestigious lecture-forum by the Faculty of Arts and Letters. Its distinguished roster of speakers includes, among others, Supreme Court Associate Justices Ramon Paul Hernando and Antonio Carpio, the late former senator Edgardo Angara, former Ombudsman Conchita Carpio Morales, former Finance Secretary Jesus Estanislao, and National Artists Bienvenido Lumbera and F. Sionil Jose.
Rewatch the St. Thomas Lecture 2021 here: https://www.youtube.com/watch?v=4_sui1_kMyQ&ab_channel=USTSosyolohiya