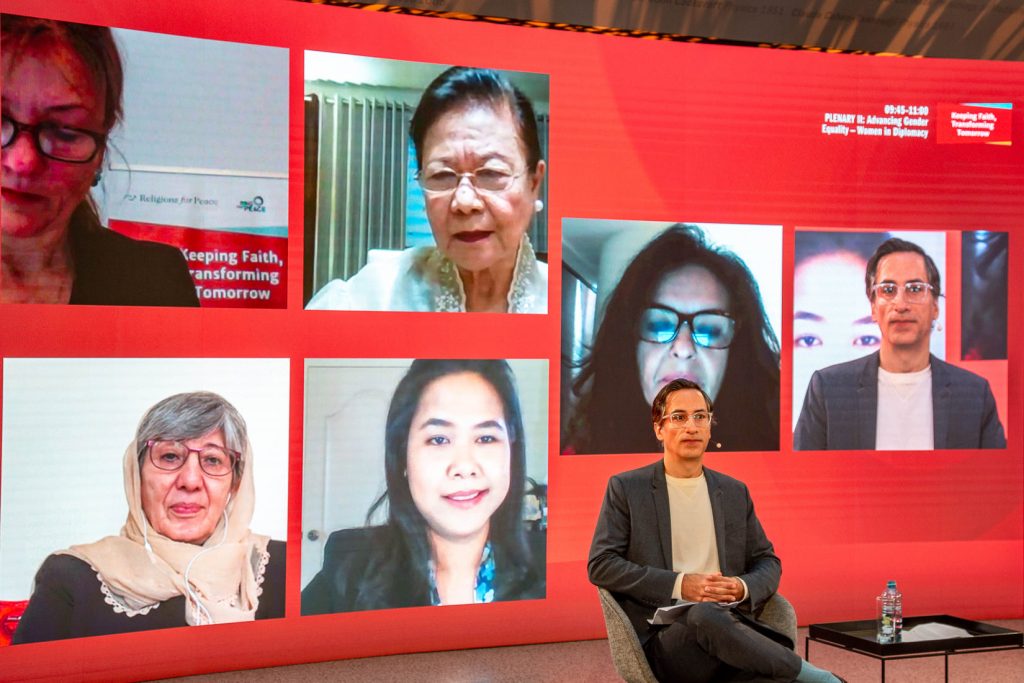 Prof. Lilian J. Sison, PhD, the Director of the Office of International Relations and Programs, served as plenary speaker and talked about women leadership and gender equality during the 1st Assembly on Women, Faith and Diplomacy held last 10-13 November 2020. The virtual conference, organized by Ring for Peace (Foundation Peace Dialogue of the World Religions and Civil Society) and the German Federal Foreign Office, in collaboration with Religions for Peace was participated by over 500 delegates from 90 different countries.
Sison, concurrent Chair of the Asia-Pacific Women of Faith Network, Co-President of Religions for Peace, Asia and Secretary-General of Religions for Peace Philippines, spoke of the status of gender equality in the Philippines. She highlighted the 2018 Global Gender Gap Index reported by the World Economic Forum which placed the Philippines in the 8th position out of 149 countries, making the Philippines the most gender equal country in Asia. According to the report, the country has closed 80% of its gender gap in the areas of economic empowerment, access to education, health and survival and political empowerment.  Sison also noted that in 2020, the Philippines slipped from 8th to 16th place in the gender gap index which is attributed to the widening disparity in the political empowerment of women.
Apart from the report, Sison also spoke from her experience as a University official. She said that all throughout her career in the University of Santo Tomas, she has not experienced nor observed gender bias and stereotyping. She highlighted that as a Pontifical University, faith life is vibrant in UST and religion has never been an impediment to gender equality in the University. She gave an example of when she was Dean of the Graduate School, UST had more women than men Deans. She also cited that there are also more female than male members in the Faculty, and also slightly more young women than young men in the student population. It is also important to recognize that several women have held the highest academic position a lay person can have in the University, the post of the Vice Rector for Academic Affairs.
Sison also spoke about women in leadership positions and in diplomacy.  She emphasized the important roles that women play in diplomacy and in advancing peace processes.
The Plenary Session on 'Gender Equality: The Role of Women in Diplomacy' also included Ms. Irmgard-Maria Fellner, Deputy Director-General for Culture and Communication, Federal Foreign Office, Germany; Ms. Sima Samar, former Minister of Women's Affairs in Afghanistan and Winner of the Right Livelihoods Awards; Dr. Suphatmet Yunyasit, Representative of Thailand to the ASEAN Women of Peace Registry, Human Rights and Peace Studies Faculty at Mahidol University, Secretary-General Religions for Peace Interreligious Council of Thailand, and Member, RfP International Women's Coordinating Committee; and Ms. Nihal Saad, Chief of Cabinet and Spokesperson to the High Representative for the United Nations Alliance of Civilization (UNAOC).