Ranking first were Danielle Sta. Rosa, Laetita Alessandra David, and Louise Randell-so R. Fabico, securing a final score of 275. The trio bested teams from India, Hongkong, South Africa, and the Philippines.
Securing the 1st runner-up spot among UST teams were Zyro C. Gonzales, Juliana Corrales, and Tashannah H. Doller, while the second runner-up spot was taken by Russell John Benjamin, Lara Franchesca N. Dy, and Gabriel A. Hao.
The competition involved a ten-hour in-person or online training workshop in which learners had to build their own artificial intelligence object recognition system. Students from Hongkong Polytechnic University facilitated the workshop, which involved topics on A.I. object recognition, machine learning, and block programming. Mrs. Arleen Alferos, Ms. Nicca Catherine Carlos, and Mr. Julian Ducut are the teacher-coordinators to the Hong Kong Polytechnic University.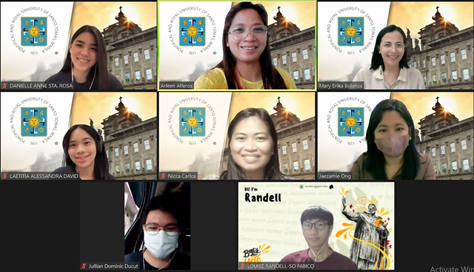 During the competition proper, learners were blindfolded and had to rely on their invented system to help find the objects they were looking for. The blindfold was a way of allowing learners to empathize with those struggling from loss of sight.
The three tasks were "Find the Right Instant Noodle," "Sort the Lollipops," and "Read the Emojis."
Among the judges for the preliminary round from the UST faculty were Mr. Francis Noel Alarcon, Ms. Ellis Mika C. Triño, Mr. Reuben Jerome D. Atayde, Mr. Osbert Bryan T. Villasis, Mr. Jake Morales. The collaboration was made possible through the UST Simbahayan Community Development Office, which has a memorandum of understanding with Hongkong Polytechnic University.