UST Secretary-General Rev. fr. Louie R. Coronel, O.P, EHL celebrated the Holy Mass in the Time of Pandemic on August 27, 2021 at the Santisimo Rosario Parish via livestream.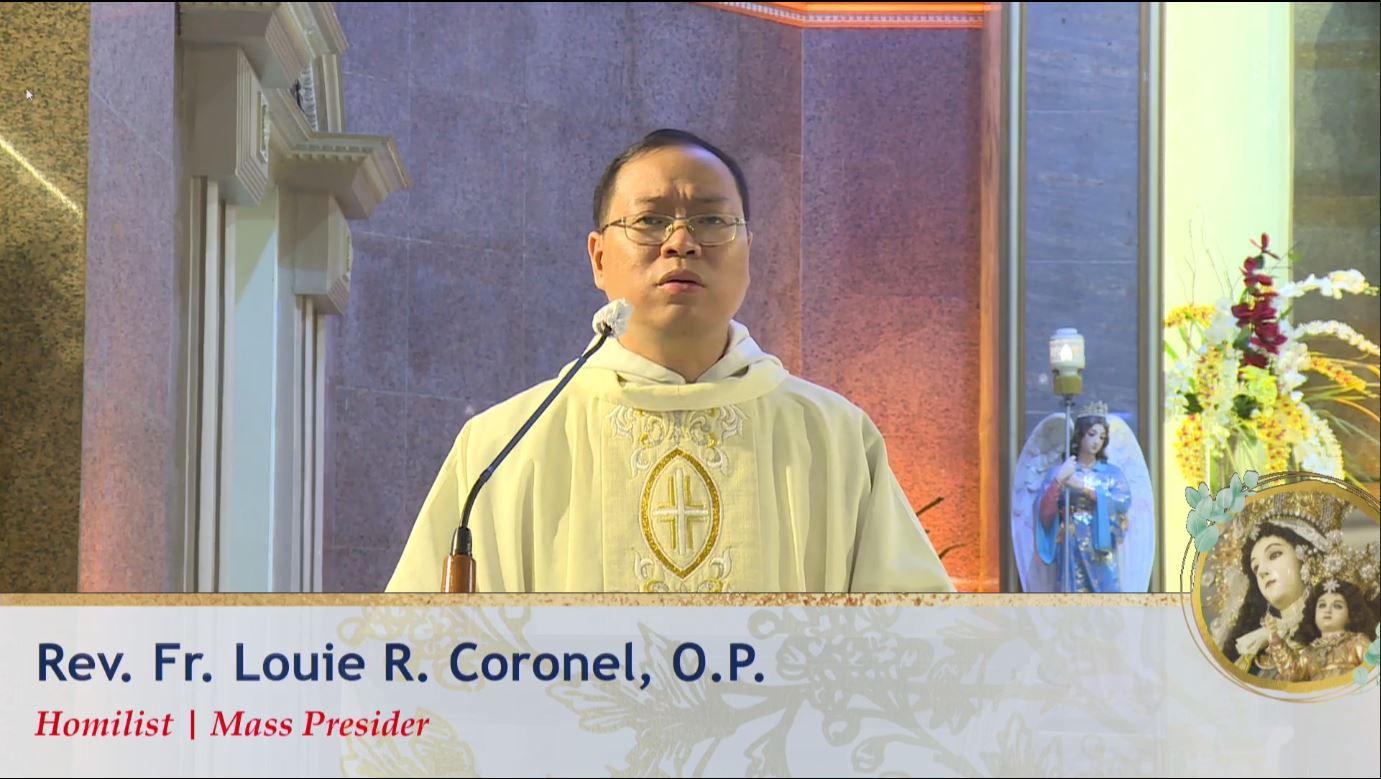 Thomasian-brand of love
In his homily, fr. Coronel alluded to the Tria Haec statues atop the Main Building facade, underscoring that Love is the greatest among Faith and Hope. The Secretary-General said the Thomasian community is here to extend its love to the fellow Thomasians who are enduring and persevering in this health crisis for two years now. "We are here because we want to extend our love for you, dear Thomasians," fr. Coronel said.
In the middle of his homily, fr. Coronel paused to pray and to commemorate the Thomasians who joined our Creator in heaven. "We remember all these people who have contributed in our formation as Thomasians," he said.
God's love brings clarity
When one feels deep sorrow and abandonment, according to fr. Coronel, the Lord is already there to bring light as long as they try to focus and feel His love. "The Lord is there already, entering the cracks of our hearts, entering our hearts. We need to feel God everytime. We should not be focusing on the pandemic alone, but most especially on the love of God," he said.
"When we see everything in the love of God, everything would be clearer. Our mission would be clearer. Our endeavors would be inspired because that it is out of love. When we walk, we walk together as Thomasians. And we should not carry unnecessary weights; we should learn to let go of useless baggage," the concurrent College of Science Regent said.
Moreover, according to fr. Coronel, one must not be ashamed for bearing the wounds caused by this pandemic for it is out of love. "May mga wounds tayo because of the pandemic. Do not be ashamed of those wounds. That wounds are out of love," he said. "Ang mga sundalo, kapag nasusugatan, tumatapang. Pero tayo, mga taga-sunod ni Kristo, mga Tomasino, habang nasusugatan, kahit nasasaktan, lalong nagmamahal," fr. Coronel said.
Love will guide you to your dreams
Fr. Coronel echoed on today's Gospel and encouraged both the students and the teachers to know their roles and, most importantly, never abandon their respective missions. Likewise, he encouraged everyone to continue holding on to love because it will serve as a compass that will guide them to their dreams.
"Kung ikaw po ay teacher, tayo po ay magturo nang mabuti even though life is challenging," fr. Coronel said. "Kung ikaw ay student, please study hard. Because the humankind, they are waiting for your expertise, for your competence. We can be sanctified by the things and the endeavors we are doing at the moment. We continue holding on to love." he added.
The Holy Mass in the Time of Pandemic was an initiative of the Office of the Vice-Rector for Religious Affairs.
Watch the Holy Mass in Time of Pandemic here: