Office of the Secretary-General
Visitor's Information Sheet
Special events, seminars and meetings occur on campus throughout the year. The event may require the issuance of a special permit for vehicles of those attending. Should such permits be issued, they are valid only for day(s) and times of the event. Issued permits must be clearly displayed on the vehicle's dash board. All attendees shall park in designated areas, unless otherwise directed.
Visitors and/or guests of the University of Santo Tomas ARE REQUIRED to register their vehicles or display a temporary parking permit on the driver's side of the dashboard of the vehicle.
Invited guests to the campus may receive their temporary parking permit in the form of a dashboard placard in advance from their University host and place it on the driver's side of the dashboard of their vehicle.
Requisites for submission of VIS
Completeness (plate number, date of visit etc.)
Printed name, signature, and position of requester
The requesting party is responsible in disseminating the other concern offices, including the needed coordination with Security Office for parking.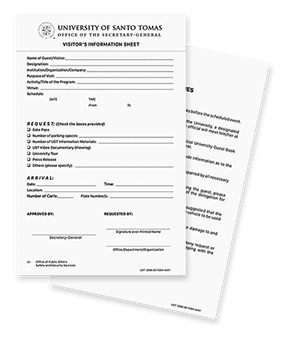 © Copyright 2020 . UNIVERSITY OF SANTO TOMAS. All Rights reserved.
Powered by: UST COMMUNICATIONS BUREAU