UST College of Architecture Pedagogical Lead Ar. Caryn Paredes-Santillan, Ph.D., delivered a talk on May 21, 2021, at the online series "Pamana (Heritage) Talks." In line with the celebrations for National Heritage Month, Ar. Santillan's presentation "mASEANaPH: Toward the Understanding, Analysis, and Conservation of Modern Filipino Architecture" was livestreamed on the Facebook and YouTube pages of Grupo Kalinangan.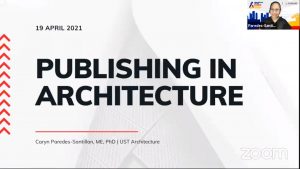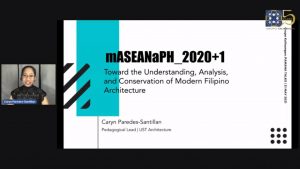 Santillan highlighted the need to define, document, and understand modern built heritage in the ASEAN region, specifically in the Philippines. She also shared the experience and data gleaned from the recently concluded mASEANaPH2020+1 Workshop organized by the UST College of Architecture with USTGS-CCCPET, the University of Tokyo, and the Toyota Foundation.

Santillan said that the baseline data that students and mentors generated during the workshop could be the basis of further scholarship on modern architecture in the country, which would hopefully result in its conservation.
Aside from Santillan, speakers for the Pamana Talks series in May included Rev. Brian Rigoli of the Archdiocese of Cebu, Ar. Dominic Galicia of Dominic Galicia Architects, and Ar. Reynaldo Lita of the National Historical Commission of the Philippines. The online event was attended by architects, members of various local government units, and heritage advocates from all over the country.
The complete recording of the webinar may be viewed through this link: https://bit.ly/UST_Santillan
UAP Assembly
In a related event, Santillan delivered a lecture at the United Architects of the Philippines (UAP) Commission on Education's "Architects in the Academe Virtual Assembly (AAA) Year 6" in her capacity as Pedagogical Lead.
With the theme "Research and Collaborative Exploration Project Acculturation of Architects in the Academe," the event held from April 19 to 20, 2021 brought together local researcher-architects to share their insights on architectural research.

In her presentation titled "Publishing in Architecture," Santillan shared her personal experiences in architectural research as well as the academic publishing process. Her sharing also included her thoughts about the future of architectural research and the benefits of collaborative endeavors.

Other speakers included Ar. Moediartianto from Indonesia, DLSU-D College of Science and Computer Studies Dean Dr. Cristina Salibay, National University College of Education, Arts, and Sciences Dean Dr. Jessie Barrot, UP College of Architecture Dean Ar. Grace Ramos, Ph. D., Ar. Ana Macasinag Lorilla from Bicol University Graduate School, and Ar. Geomilie S. Tumamao-Guittap from the University of the Philippines – Diliman.