Department of Communication and Media Studies faculty member Mr. Felipe F. Salvosa II co-presented a research paper titled "Visualizing Covid-19 Statistics: Practices and Pitfalls" with UST Journalism Program faculty member Mr. Prinz Magtulis. The study was presented at the "#visualization. Word – Image – Sound" international online conference organized by the College of Social and Media Culture in Torun, Poland held on May 11, 2021.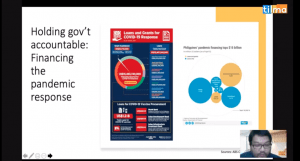 Salvosa, a researcher of the UST Research Center for Culture, Arts, and Humanities, and Magtulis discussed the visualization of COVID-19 statistics of Philippine news organizations. Largely driven by journalistic objectives, the derivation of COVID-19 data stems from the need to present a clear, contextualized, and newsworthy presentation of the status of the pandemic in the country.

In contrast, the government's daily case bulletins have highlighted mainly positive aspects of the data and generally painted a favorable picture of how it has so far responded to the health emergency.

The conference showcased interdisciplinary studies on new media, particularly on data visualization and the development of new audio-visual media and its impact on the relationship of images, texts, and sounds during the COVID-19 pandemic.

Salvosa and Magtulis, who are both teaching at the UST Faculty of Arts and Letters, were joined by researchers from St. Xavier's College in Calcutta (India), Adam Mickiewicz University in Poznan (Poland), Cardinal Stefan Wyszyński University in Warsaw (Poland), John Paul II Catholic University of Lublin (Poland), College of Social and Media Culture in Toruń (Poland), Carolina Albasio University in Castellanza (Italy), Universidad Panamerica, Aguascallentes (Mexico), and University of Rzeszów in Rzeszów (Poland).
The online conference, which was livestreamed, was attended by more than 1,000 participants.