Two faculty members from the Department of Communication and Media Studies of the Faculty of Arts and Letters presented papers at the 2018 International Media Education Summit in Hong Kong on November 1 and 2, 2018. Asst. Prof. Faye Martel-Abugan, assistant director for broadcast of the UST Communications Bureau, and Mr. Felipe F. Salvosa II, coordinator of the journalism program, were the only Filipino academics in the conference organized by the United Kingdom's Centre for Excellence in Media Practice of Bournemouth University, and hosted by the Hong Kong Baptist University.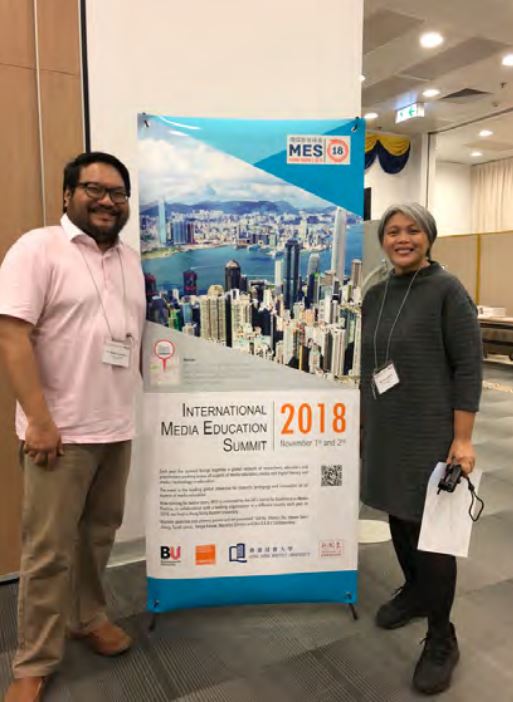 Salvosa presented the findings of a major research project of the journalism program- the Philippine paper of the 44-country "Journalism Schools Across the Globe" survey. The Philippine descriptive results, presented for the first time, showed that Filipino students are motivated to study journalism and have a positive outlook on their academic training. Many, however, prefer travel and lifestyle over politics and business beats, and desire to work in magazines and television rather than newspapers or news agencies. Further analysis showed that motivations have significant positive effects on roles, ethical views and perceptions of threats on the news media. "The findings underscore the important function of journalism schools in educating their students on the greater role of journalism in democratic society," the paper revealed.
The research team was led by Asst. Prof. Jeremaiah Opiniano, and faculty members Jannis Montañez and Marishelle Medina, journalism students Marie Shane Krizzia Delgado, Justine Rey Hernandez, Margaret Claire Layug, Roen Mecano, Joelle Theresa Ngo, Monica Padillo, Hazel Maye
Reyes and Raymond Rocha.
Salvosa said the Philippine study, which had 1,000 respondents, was the result of a collaboration among journalism schools that became the nucleus of the newly established Philippine Journalism Studies Consortium.
The consortium members include UST, Cavite State University, Bulacan
State University, University of Rizal System, and the University of San JoseRecoletos in Cebu.

Abugan discussed the learning experiences of d'CATCH participants from the University of Santo Tomas. She also presented results from a survey
conducted among students who joined d'CATCH from 2004 to 2018 on their personal insights and learning before, during and after their participation, showing how effective d'CATCH was as a practical learning project for students of communication.
As part of the "Asian media project for media literacy and cross-cultural
communication in five countries," Abugan, along with Seongsoo Baeg (Kolej Universiti Islam Antarabangsa Selangor, Malaysia), Gengxin Wang, (Communication University of China) and Shin Mizukoshi (University
of Tokyo, Japan), presented d'CATCH, an international project designed for media literacy and intercultural communication, through the cross-cultural collaboration of video-making and discussion about social common issues in Asia. The project, which began in 2003, has five participant universities
from five countries: China, Indonesia, Japan, the Philippines and Thailand.