College of Rehabilitation Sciences (CRS) academic staff Asst. Prof. Christian Rey D. Rimando presented a paper titled "Assessing Telerehabilitation Readiness among Older Adults with Hypertension in Communities in Rizal and Laguna: a Cross-sectional Analytic Study." The presentation was held at the 5th Asia-Pacific Community-Based Inclusive Development (AP-CBID) Congress in Phnom Penh, Cambodia from March 15 to 17, 2023 at the Sokha Phnom Penh Hotel & Residence.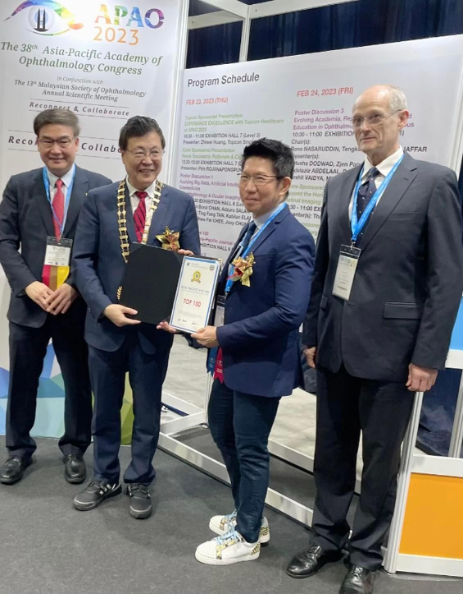 The paper was co-authored by fellow academic staff Mrs. Archelle Jane Callejo-Tiuseco, Mr. Ken Erbvin Sosa, and students Yalena Mikaela B. Bergonio, Michelle Audrey A. Cordero Sy, Carlos Angelo D. Crespo, Hannah R. Lim, Lorenzo Joel S. Mallari, Crissy Jane F. Santos, Fernando Levy A. Sto. Domingo, and Shermarie Klein M. Zabarte. Their study reported that the majority (62%) of older adults diagnosed with hypertension are ready and are accepting the idea of utilizing telerehabilitation. The findings of the study also identified barriers (lack of technological literacy and internet connectivity) and facilitators (availability of resources and support) in implementing telerehabilitation.

The Prime Minister of the Royal Government of Cambodia and the Honorable President of the Disability Action Council H.E. Samdech Akka Moha Sena Padei Techo Hun Sen graced the opening ceremony by inviting everyone during his opening speech to adopt the Jakarta Declaration on the Asian and Pacific Decade of Persons with Disabilities (PWDs) (2023-2032) for the empowerment of PWDs across the Asia-Pacific region and the world.

The chairperson of the 5th AP-CBID and the Minister of Social Affairs, Veterans and Youth Rehabilitation H.E. Vong Sauth gave the welcome remarks highlighting the importance of having a strong and effective cooperation between stakeholders in promoting inclusive communities for PWDs.
The 5th AP-CBID had the theme "Strengthening Social and Economic Empowerment of Persons with Disabilities during and after the COVID-19 Pandemic through Community-Based Inclusive Development (CBID)". The AP-CBID congress is held every four years and is attended by government officials, non-government organizations, educators, social workers, researchers, and by the persons with disability (PWDs) themselves. The four congresses were previously held in Thailand (2009), the Philippines (2012), Japan (2015), and Mongolia (2019).