To give light on the significance and impact of forensic linguistics in the global society, the University of Santo Tomas Graduate School, in partnership with the UST Department of English, organized an international webinar that featured a renowned professor of Linguistics and School of English of the University of Hong Kong Head Dr. Janny Leung.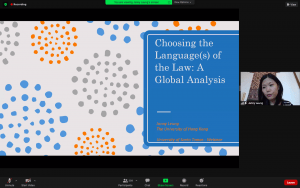 Leung elaborated on how multilingualism could influence the accessibility of legal orders to people with diverse linguistic backgrounds during the event titled "Choosing the Language(s) of the Law: A Global Analysis" held recently through Zoom.

In her discussion, Leung first explained the functions of law in instrumental and symbolic functions. While the former focuses on the enforcement of law, the latter was given more highlight as it focuses on the values inculcated in law.

"Symbolic law is not an exception, an irregularity, or a disease that needs to be cured. Symbolism is an important function of law-making and has a more systematic and persistent presence than usually acknowledged," said Leung.

"Official multilingualism serves a wide range of political and economic functions, such as ensuring stability, establishing legitimacy, balancing rival powers, and harnessing trade opportunities," she added as she proceeded with multilingualism in law.

The resource speaker concluded her talk by giving evidence of multilingualism playing a crucial role in the field of law.

The webinar was organized by the students of Prof. Marilu R. Madrunio, PhD., a respected Filipino expert in Forensic Linguistics and dean of the UST Faculty of Arts and Letters.

The students are under the English Language Studies Doctorate and Master's Programs, namely: Krizza Mae Balisong, Nikko Domingo, Selenne Anne Leynes, Cherie Ann Luna, Leeroi Christian Rubio, Maria Mikaela Henson, Pauline Mae Lim, Cin Lawh Mang, Lizhamhel Mendoza, Sophia Anne Tabije, and Timothy James Tabigne.
More than 400 students, educators, and practitioners of language and law from different countries including Pakistan, Laos, Indonesia, Uzbekistan, Thailand, South Korea, and the Philippines attended the virtual event.