The UST RCYC-Nursing Unit led by Margaux Gwyneth Lina (President), Diane Ricci Lavadia (External VP), Aleck Hans Ison (Treasurer), and Asst. Prof. Ma. Carina Rebueno (Adviser) won the Best Presenter recognition during the oral presentation for the research entitled "Filipino community dwellers COVID-19 Knowledge, Attitude, Practices and Health Literacy influence on their Pandemic Fatigue: A correlational study" in the 6th International Conference on Translational Medicine and Health Sciences organized by the Faculty of Medicine, Universitas Diponegoro in Semarang, Indonesia on October 28 to 29, 2022.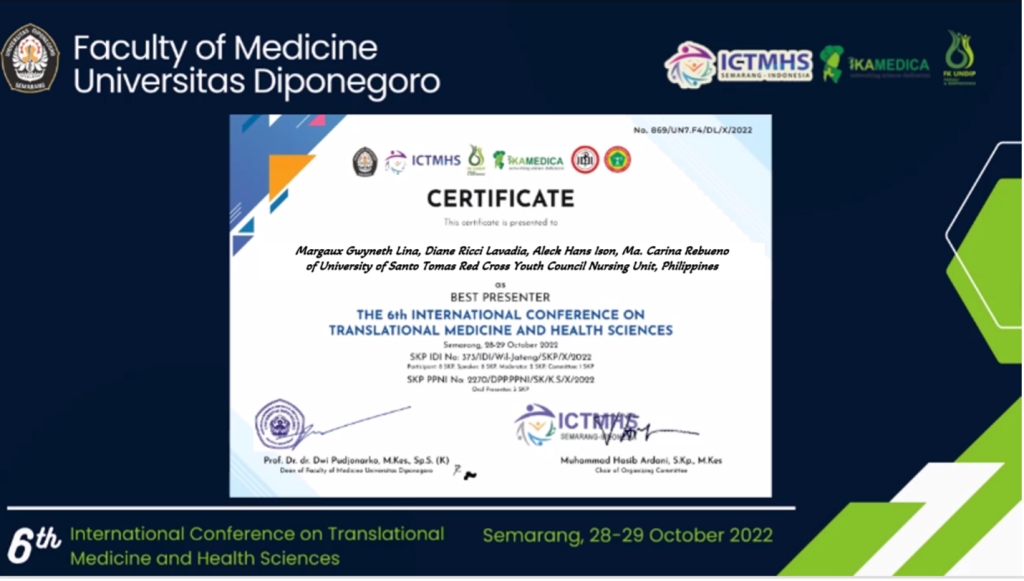 The study described the influence of COVID-19 knowledge, attitude, practices, and health literacy on the level of pandemic fatigue of Filipinos living in the community. Results revealed that Filipinos have a moderate level of pandemic fatigue. COVID 19 attitude negatively influences pandemic fatigue, while knowledge on COVID 19 directly influences health literacy, attitude and practices. Moreover, health literacy affects COVID 19 attitude and practices. Positive attitude and health practices can create measures to prevent pandemic fatigue. Therefore, development of evidence-based programs and measures focusing on enhancing their COVID-19 knowledge and health literacy to change their attitude towards the COVID-19 pandemic will be beneficial in preventing or alleviating pandemic fatigue in the community.
The international conference was participated by students, graduate students, and professionals from different health discipline  virtually and in-person from different countries.