Asst. Prof. Jay P. Jazul of the UST Research Center for Social Sciences and Education (RCSSEd) and Faculty of Pharmacy, together with Asst. Prof. Maria Carinnes P. Alejandria, Ph.D., head of Social Health Studies Research Interest Group (RIG), was awarded the 2nd-place prize in DOST – National Research Council of the Philippines (NRCP) Scientific Poster Competition under Cluster 1. The recognition was given during the virtual NRCP Annual Scientific Conference and 87th General Membership Assembly held on June 30, 2020. 
Joining Jazul and Alejandria in the paper were Asst. Prof. Carol Geraldine Pablo, Mr. Solomon Sarne, Ms. Lora Kimberly Cabalbag and Ms. Edlynne Martinez.
The poster paper entitled: 'Initial Assessment of the Information Education Campaign (IEC) Materials for Pediatric Tuberculosis in the selected informal urban community settlers' is an interdisciplinary work of an anthropologists, pharmacists, medical technologists, nurse, sociologists and geographer. Responding to the need for prevention through education of tuberculosis in, the researchers focused on the areas of Baseco, Port Area, Manila; Payatas, Quezon City; and Bagong Silangan, Caloocan City. The purpose of the project was to formulate IEC materials for the caregivers of children living with tuberculosis in selected informal settlements in Manila, Quezon City and Caloocan City. Utilizing the Technology Acceptance Model and focus group discussions, the study proved that through the campaign, which utilized materials such as comic and calendars, knowledge of tuberculosis was increased, with a majority of caregivers in the community expressing confidence in using the materials.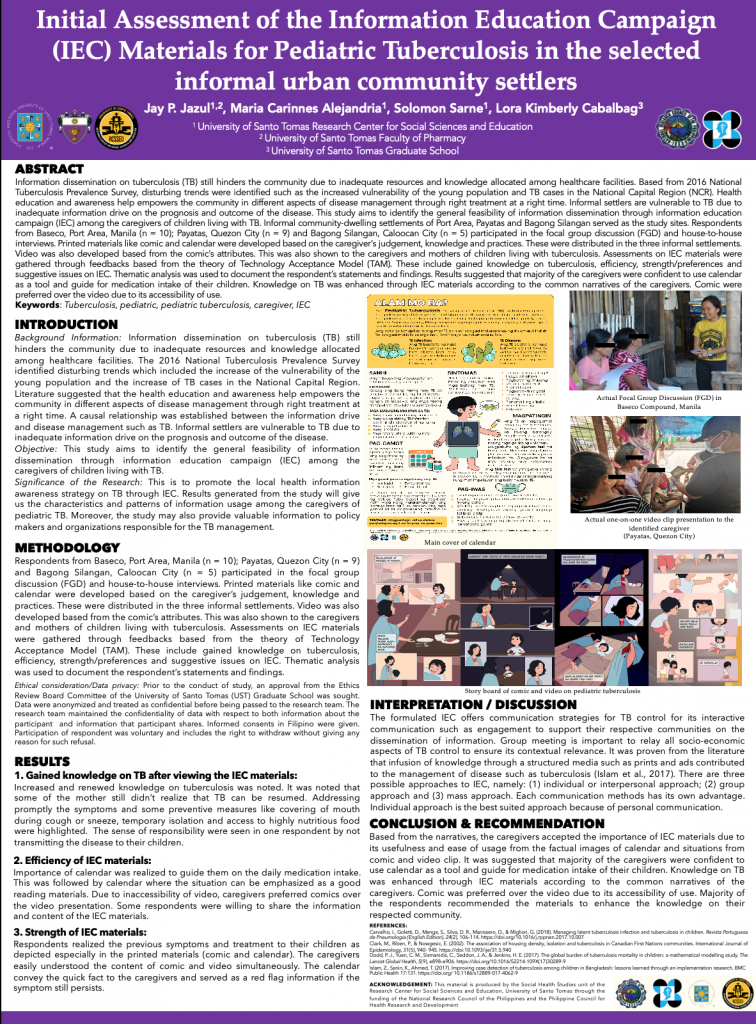 The poster proposed an educational tool to disseminate information on the proper management of pediatric tuberculosis in community settings. The project was funded by the DOST – NRCP and by a research seed grant by the UST Office of the Vice-Rector for Research and Innovation (OVRRI).