Mr. Daryl Querijero of the Fundamentals of Faith learning area of the Senior High School received an international recognition for submitting one of the top six entries in the #iPeacebuilder Video Challenge 2021, organized by the Global Peace Foundation.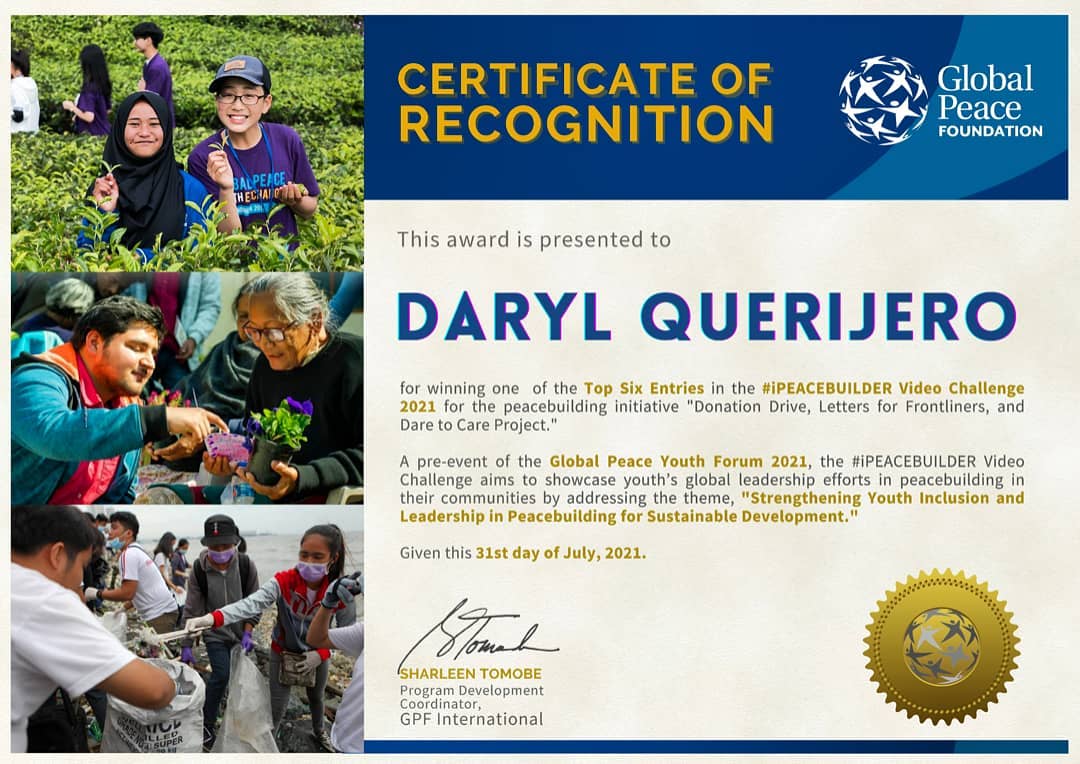 Entitled "Donation Drive, Letters for Frontliners, and Dare to Care Project," Querijero's winning entry aims to raise awareness about the capacity of every human individual, especially the youth, in peace building and serving the people. 
"Through a constant practice of concrete actions of love, like sending letters, praying for others, no matter how small or big the actions are, these can be means to help young people to recognize their capacity to love, their capacity to share, and their capacity to create an impact," Querijero said in an interview with the Communications Bureau. "It will enable [the youth] to reach out to others. Through this, we eradicate apathy and indifference. Peace is a reality of a united world," he added.
Serving as the national coordinator of Living Peace International Philippines, Querijero underscores the important role of the youth in peace building. "The Living Peace International emphasizes that we need to establish a culture of love, in order to build a culture of peace. This is the message that we want to convey to the youth of today,. Guided by this principle, we promote peace education to form the hearts of young people," he says.
In this light, Querijero urges the Thomasian community to look in themselves and realize that they are also capable of becoming a peace advocate themselves. "My message to all Thomasians is to live out their humanity to the fullest. Our human-ness is stressed when we love and share. We have to recognize our capacity to love and to build peace. Each one of us can be an ambassador of unity and peace," he says.
Apart from his teaching duties in SHS, his role in Living Peace International Philippines, and in Cercle Universel des Ambassadeurs de la Paix (France & Suisse), where he is the Universal Peace Ambassador, Querijero serves as the Station Manager of the UST Tiger Radio, the radio broadcasting arm of the UST Communications Bureau.
Addressing the theme "Strengthening Youth Inclusion and Leadership in Peacebuilding for Sustainable Development," #iPeacebuilder Video Challenge 2021 is a pre-event of the Global Youth Forum 2021, which aims to showcase youth's global leadership and peacemaking efforts in their community.