The University of Santo Tomas Office of Public Affairs met with Catholic
Media practitioners based in the Archdiocese of Los Angeles, USA, on July
22, 2018, at the UST Quadricentennial Pavilion.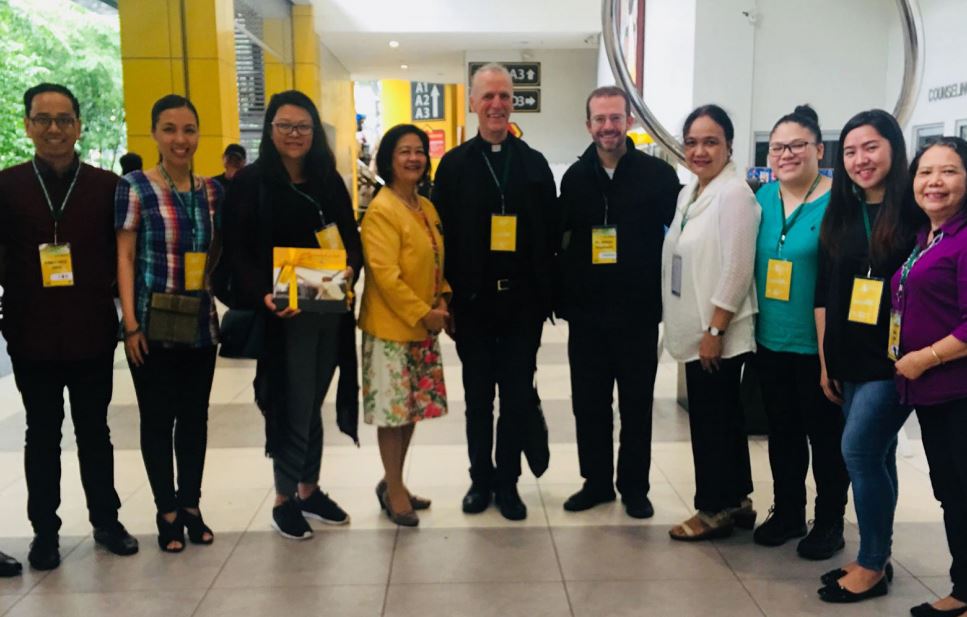 The group was composed of the Archdiocese of Los Angeles Office of Restorative Justice Chaplain Rev. Fr. Paul Griesgraber, Our Lady of Perpetual Help Parish Priest Rev. Fr. Ethan Southard, and Saint Kateri Tekakwitha Parish Director of Liturgy Ms. Clarissa Ann Martinez, who are
often invited to speak on radio, broadcast, or plenary discussions on the topics of faith.

They attended the fifth Philippine Conference for New Evangelization (PCNE) held at the UST Quadricentennial Pavilion. UST Office of Public Affairs Director Assoc. Prof. Giovanna V. Fontanilla, Ph.D., led the
members of the Office of Public Affairs in the meeting. Also present were: Assistant to the Director for Publications Asst. Prof. Virginia A. Sembrano, Ms. Shenine Levina Pascual, Ms. Michaela Lagniton, Ms. Christie Elise Cruz, Ms. Basilia Lanuza and Mr. Kennett Roger Garcia.
Concurrent session leaders for PCNE V. They discussed the theme "Liturgy is to be lived: Millenials demand authenticity and connectivity." Ms. Martinez was a resource person for the concurrent session on "Transforming relationships and community through faith tech media." Focusing on the topic of Catholic media and the way Catholic events are covered,
they cited the example of their "Hollywood Beloved Movement," an intentional play on the name of the street, Hollywood Blvd.,
through which the procession passed through.

The Hollywood Beloved Movement was a Eucharistic candlelight procession
intended to not simply just help the homeless population of Los Angeles,
but to help members of their community "recognize the right message that the Lord is near and dear to His loved ones," Fr. Griesgraber said. As participants moved forward with the procession, meaningful outreach activities for brothers and sisters experiencing homelessness and loneliness
were conducted.
Fr. Southard, who personally participated in the movement, added that there was a need to have a "new way of evangelizing in Hollywood," different from the usual programs which provide resources and services to the homeless population. The issue, he said, is "not a lack of funding, but a lack of meaningfulness." He further explained, "There's a lot of bitterness
and despair among the homeless population because they feel that nobody cares. They stopped seeking care because of the way they're treated. If the resources are there, but you're treated as less than a person, like a criminal,
then you're not gonna be able to receive those services well." He emphasized the need to look at them like people who need help from fellow
people, rather than a potential danger.
The Hollywood Beloved Movement was an answer to Pope Francis's Liturgical Memorial on the feast day of St. Anthony of Padua for the second World Day of the Poor, in which he called on Catholics to recognize the voice of the poor and listen.

Pope Francis writes, "On a day like the World Day of the Poor we are called to make a serious examination of conscience in order to understand if we are really capable of hearing them. What we need in order to recognize their voice is silence in which to listen. If we speak too much ourselves, we will be unable to hear them. Often I am afraid that many initiatives, by themselves meritorious and necessary, are intended more to please those who undertake them than to really acknowledge the cry of the poor. If this is the case, when the cry of the poor rings out, our reaction is incoherent and we are unable to empathize with their condition. We are so entrapped in a culture which obliges us to look in the mirror and to pamper ourselves that we believe that a gesture of altruism is sufficient without compromising ourselves directly."
Fr. Griesgraber emphasized that, "Spirituality is an ingredient that is missing from media. [Catholic media and events] need to do more than broadcast, [we must] show that we care about our community." To do this, he suggested meaningful media coverage such that readers or audiences must be able to "hear Christ's voice inside the cry of the poor," rather than focusing the narrative on what privileged people have done to help.
Ms. Martinez shared that despite being willing to help, most people have the human condition in which there are internal doubts left within them that prevent them from helping wholeheartedly and meaningfully. She said
that stillness, the silence of contemplation within a one-on-one encounter with the Lord, helped her overcome this fear.

Fr. Southard affirmed this notion, saying that "Human condition responds to human condition. [Jesus] needs to enter your heart through graceful contemplation and prayer.
Let Him shift your fear, your nervousness, to fit His vision."
Dr. Fontanilla concluded the meeting with the sharing that Thomasians are
"contemplative men and women in action." The priests added that "contemplation is the simplest expression of the power of God.