SANTIAGO-BAUTISTA, Myla R.
SANTIAGO-BAUTISTA, Myla R.
Degrees
Master of Science in Biology, Ateneo de Manila University – Quezon City, Philippines, 2008
Bachelor of Science in Biochemistry, University of Santo Tomas – Manila, Philippines, 2001
Drug discovery and development technologies for targeted delivery such as drug/bioactives microencapsulation
Has maintained the UST Mammalian Tissue Culture Laboratory since 2011– a USTRCNAS facility for repository and in vitro service analysis of authentic cell lines from ATCC and ECACC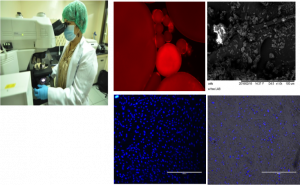 Fluorescent micrograph of coconut oil bodies stained with nile red (A), SEM image of in vitro adhesion of encapsulated probiotic in colorectal cells( B), nucleus staining of live cells (C), and stained nucleus (D)[/caption]
Cell culture technology for biopharmaceutics
in vitro toxicity testing of drugs/bioactives
Molecular screening and diagnostics of cancer-related diseases
Principal Investigator, 10M PhP grant application in CHED RDE entitled "Screening and Characterization of Peptides with in vitro bioactivity from venoms isolated from Theraposidae and Lycosidae of Philippine Spiders for Therapeutics and Biopesticides Leads" (under evaluation for funding 2016-2018)
Project Leader, 20MPhP grant application in PCIEERD-DOST entitled "Critical assessment of the nanomaterials Ag, Au & Zn metal nanoparticles and carbon nanotubes toxicities in cell biological systems (under evaluation for funding 2016-2018)
Project Leader, 0.5MPhP grant in DOST-Metro Manila Health Research and Development Consortium (MMHRDC )Research entitled "Microencapsulaton of Lactobacillus acidophilus using natural oil emulsions from Cocus nucifera L. in developing a safe and effective probiotic food supplement with increased gastrointestinal activity" (January 2015- January 2016)
Recipient, Faculty Research Exchange in Universiti Kebangsaan Malaysia (UKM), Centre for Drug Discovery of project entitled "The potential of natural oil emulsions from Cocos nucifera L. as emulsifying agent of microcapsules in DUOLACTM probiotics" (June 2014-July 2014)
Doctoral research exchange fellow, Erasmus Mundus Action II-Man Health, Environment and Biodiversity (MAHEVA) in Universite Catholique de Louvain, Belgium (2011-2013)
Supporting Member, American Society for Microbiology (2013-present)
Member, Public Population Project in Genomics and Society (2013- present)
Associate Member, National Research Council of the Philippines, Division V Biological Sciences (2010-present)
Life Member, Philippine Society for Cell Biology, Philippine Society for Biochemistry and Molecular Biology
Santiago MR and Devanadera MK (2015). Targeted and Controlled Delivery of Alginate-Based Encapsulation of Doxorubicin in EGFR-Related Breast Carcinoma. World Journal of Pharmaceutical Research 4(5): 444-454 Online ISSN: 2277-7105
Santiago MR, Devanadera MK, Villanueva JK, Ayson AL, Cagalingan RV, Crisostomo AB, Bayquen A (2015).pH Sensitive Alginate-based particle for Controlled Release of Doxorubicin Against Breast Cancer Cells in Vitro. World Journal of Pharmaceutical Research 4(5): 209-218 Online ISSN: 2277-7105
Santiago MR, Devanadera MK. Microencapsulation of Pediococcus sp. with coconut oil bodies and oleosin for improved viability and enhanced targeted delivery in the gastrointestinal tract . The Philippine Agricultural Scientist (Accepted for publication on July 2016 ref no. 015-217)
© Copyright 2020 . UNIVERSITY OF SANTO TOMAS. All Rights reserved.
Powered by: UST COMMUNICATIONS BUREAU