Asst. Prof. Rose Marie M. Cordura started her career in the University of Santo Tomas in 1993 as a preschool teacher. In a span of 18 years in the Elementary Department, she handled preschool up to grade school level and served as subject coordinator from 2009 to 2011. She has earned (eighteen) undergraduate units of Preschool Specialization at the Philippine Normal University and received her Master of Arts in Teaching at the De La Salle University, Manila in 2006. In 2011, she trans-affiliated to the Teacher Education Department of the College of Education as a course facilitator of various professional and major courses in the Elementary Education Programs. She is also a supervising teacher to Pre-Service Teachers or teaching interns since 2011. She was also the Coordinator for the Elementary Education Programs prior to the establishment of the Department of Elementary Education.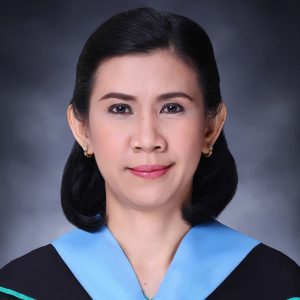 Asst. Prof. Rose Marie M. Cordura, MA
Degrees
Master of Arts in Teaching, major in English, De La Salle University – Manila, Philippines, 2006
Bachelor of Science in Elementary Education, University of Santo Tomas – Manila, Philippines, 1993
Courses Handled / Professional Activities​
Undergraduate Level
Classroom Management
Curriculum for Pre-School
Facilitating Learning
Field Study
Home-School Relationship
Introduction to Pre-School Education
Language and Numeracy for Young Children
Observational Child Study
Personal and Social Development
Practice Teaching 1 and 2
Trends and Issues in Preschool Education
Coordinator for Elementary Education Programs, University of Santo Tomas College of Education (until 2019)
Member, Philippine Association for Teacher Education (2013-present)
© Copyright 2020 . UNIVERSITY OF SANTO TOMAS. All Rights reserved.
Powered by: UST COMMUNICATIONS BUREAU