Mr. Jose Maria Galan Carlos heads the newsroom of CNN Philippines as Assistant Vice President for News. He also is chairman of the Board of Management of the Asia Media Information Center (AMIC) and teaches at the University of Santo Tomas as Assistant Professor handling courses on broadcast journalism, media management and public relations. Mr. Carlos is formerly programme manager of the Kuala Lumpur-based Asia Pacific Institute for Broadcasting Development (AIBD), and Secretary General of the Singapore-based AMIC. He had also worked as Public Relations Manager at San Miguel Corporation and Resins Incorporated.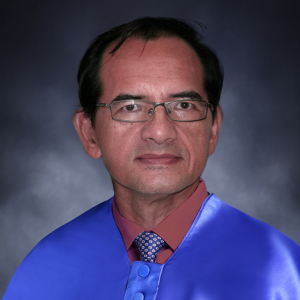 Asst. Prof. Jose Maria G. Carlos, MA
Department of Communication and Media Studies | Graduate School 
Degrees
Master of Management, Asian Institute of Management – Makati City, Philippines, 1988-1989
Bachelor of Arts in Communication, University of Santo Tomas – Manila, Philippines, 1970-1974 
Media Management

Broadcast Journalism
Undergraduate Level
Broadcast Journalism 

Newsroom Practice and Media Management 

Advanced Newswriting 

Public Relations Principles and  Practices
Graduate Level
Media Management 

Advanced Broadcast Journalism 

Media Development 

Public Relations Management
Chairman, Board of Management, Asia Media Information Centre (AMIC)
Author of 'Social Media Policy for Broadcasters: A Comprehensive Guide," published by Asia Pacific Broadcasting Union (ABU), 2017

Editor of bi-annual Resins Inc newsletter and website, 2008-2010

Lead editor/writer for a book entitled "Asia-Pacific Approach to Public Service Broadcasting," published by the Asia Pacific Institute for Broadcasting and Friedrich-Ebert Foundation in 2009
Co-edited a book on "Centers of Excellence for Youth Media Education: Philippine Perspective," published by AMIC in July 2003.

Editor for bi-monthly AMCB Newsletter and quarterly Media Asia Magazine both published by AMIC

Editor of AIBD quarterly newsletter "Broadcaster", 2007 to date
Chief Editor/writer and project manager for AIBD anniversary book entitled "30 Years of Service to Broadcasting,", May 2007
© Copyright 2020 . UNIVERSITY OF SANTO TOMAS. All Rights reserved.
Powered by: UST COMMUNICATIONS BUREAU