On July 1, 2015, six students from the B.S. Pharmacy major in Clinical Pharmacy program of the Faculty of Pharmacy arrived in Bangkok for the Pharmacy Student Mobility Program for Mahidol University, Bangkok, Thailand. The student participants included: Emielex Aguilar, Colleen Anne Caragay, Bea Carmelle Casiding, Anescia Francia, Reuben Quimio and Melchin Tapan. They were the second batch of students to attend the program in the said university and were accompanied by their Internship Area Coordinator, Mr. Renz Kenneth G. Cadiang.
The first day was allotted for the general orientation and a lecture forum. UST participants, together with students from University of Arizona, USA and Paris Descartes University, France were cordially welcomed by Assoc. Prof. Dr. Usa Chaikledkaew, Deputy Dean for International Relations of Mahidol University Faculty of Pharmacy. Dr. Usa then presented the detailed program of activities per participating institution.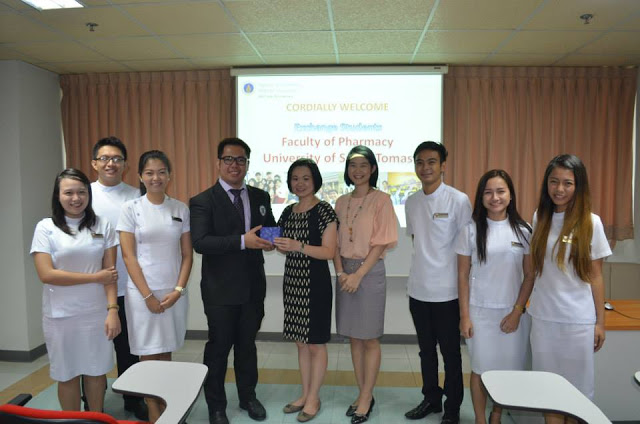 Participants listened to a lecture on the Thai Health Insurance System and Consumer Protection on Health Products, Public Health and Healthcare System of Thailand and the Laws and Regulations regarding Drug Control Distribution and Marketing, delivered by Dr. Farsai Chanjaruporn. A tour of the Mahidol University Faculty of Pharmacy was held afterward, facilitated by Dr. Jiraporn Leanpolchareanchai.
In the succeeding days, students will be attending a series of lectures focusing on Drug System, Distribution and Marketing in Thailand, Drug Selection and Utilization in Thailand, Cell Culture Assay and Techniques, Biopharmaceuticals, Pharmacogenomics, Medicinal Plant Information Center and Drug Information Center and Their Services, Good Manufacturing practice, Good Laboratory Practice and ISO 17025. They will also have study visits at the Mahidol University Salaya Campus, Manufacturer of Thai Traditional Medicine, Hospital and Community Pharmacies and exposure on Thailand's Home Healthcare Services.
Students will also have time doing cultural visits at different famous temples in Bangkok and at Dong Wai Floating Market.