The new normal has driven the education sector to online learning to address the challenges of learning continuity amidst the pandemic.  Despite the global crisis, the Faculty of Pharmacy continues to pursue its internationalization efforts through its banner program, Global Learning for Outstanding Benchmarking and Experiential Education (UST FOP GLOBE). The program can prepare the students and its faculty members for a role in the global arena by facilitating agenda like faculty and student mobility, research, training, and joint symposia and fora with partner institutions.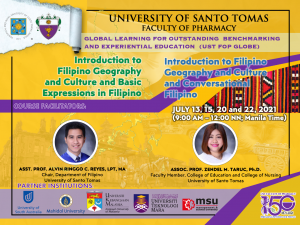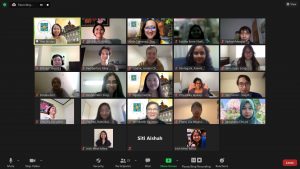 With the current situation, which limits most of the international activities of the faculty, Pharmacy came up with the project, UST Faculty of Pharmacy (FOP) Virtual Exchange Collaborative Online Intl Learning (FOP VEx COIL) as an option for students or faculty members who may not be internationally mobile during the pandemic.  
Part of the project is student mobility, where the Faculty receive virtually international students through a special online course on the Filipino language and culture. The project serves as the continuing inbound student mobility program for Pharmacy's partner institutions.
To pursue its special course program on the Filipino language and culture, Pharmacy held these online.  The sessions were held on July 13,15,20 and 22, 2021 and were attended by 23 participants from partner institutions, namely, University of South Australia; University Teknologi MARA, Malaysia; Mahidol University, Thailand; and Management and Science University, Malaysia.
The UST Faculty of Pharmacy pioneered a special session on the Filipino language and culture to the BS Pharmacy/ Pharmaceutical Science students of the University of South Australia in April 2018. The same special courses were offered to the inbound students until January 2020.
The learning outcomes of the special course in Filipino language and culture are: (1) to prepare international students for effective communication, be it face-to-face or virtual, with their Filipino hosts and collaborators; (2) to allow them to have a deeper sense of appreciation for Filipino culture and identity; and (3) to allow the students to adapt to the culture of the host's institution.
Course facilitators were faculty members from the UST Department of Filipino, Department Chair Asst. Prof. Alvin Ringgo C. Reyes, and Assoc. Prof. Zendel M. Taruc, Ph.D. They discussed Filipino geography (landscapes and places), an Overview of Filipino culture (identity, arts, beliefs and traditions, food, people, among others), Basic expressions in Filipino for interaction, Conversational Filipino focusing on Stating basic information and descriptions, and situational conversation. Simulations and roleplays were also part of the sessions.