UST Faculty of Pharmacy Dean Prof. Aleth Therese L. Dacanay, Ph.D., was one of the speakers during Malaysia's National Pharmacists Convention 2021. Hosted by the Malaysian Pharmacists Society, the online convention was held from July 8 to 11, 2021.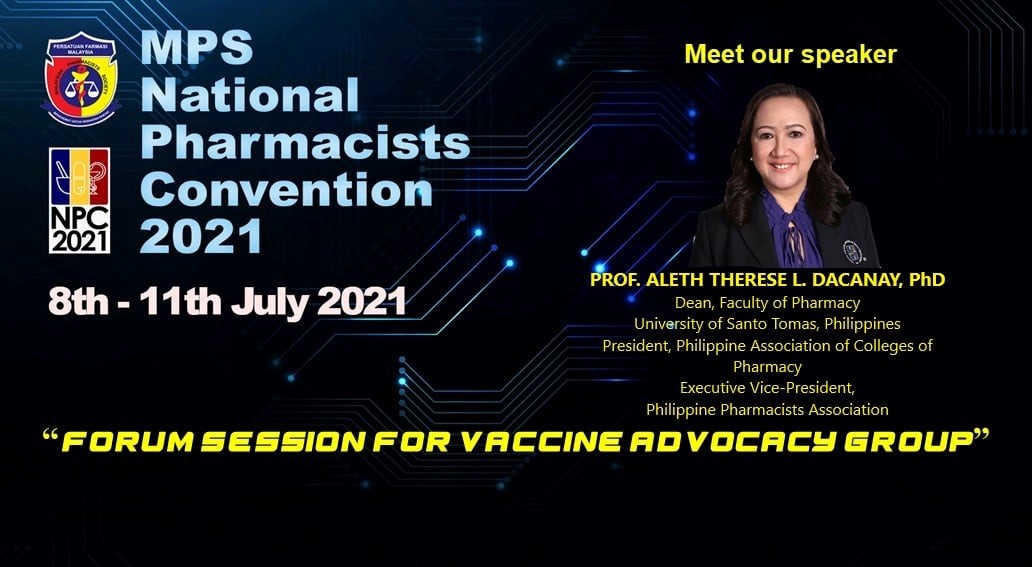 With the theme, "Exploration, Inspiration, & Transformation of Pharmacy," the program covered the latest updates on current trends on the COVID-19 pandemic, which created challenges and opportunities for pharmacists' roles and responsibilities within the health system across the globe. Pharmacists have gone beyond the call of duty to explore new healthcare horizons and are now the inspiration and catalyst of upcoming changes.

In her talk, Dacanay tackled both the imperatives, initiatives, and strategies on the vaccination campaign and deployment in the Philippines and the vaccination program of the University of Santo Tomas.

Among the initiatives presented, Dacanay emphasized the recently launched "Immunizing Pharmacists Certification Program (IPCP)" of the Philippine Pharmacists' Association. IPCP is an innovative and interactive practice-based educational program that provides Filipino Pharmacists with the skills necessary to become primary sources for vaccine advocacy, education, and administration. The said program allows Filipino pharmacists to have an expanded role as immunizers.

Besides Dean Dacanay, other pharmacy leaders who served as speakers were: University of Iowa Pharmaceuticals Managing Director Dr. Dennis M. Erb, Internationalisation and Global Network Head of International Islamic University Malaysia Assoc. Prof. Dr. Mohamad Haniki Bin Nik Mohamed, National University of Singapore Center of Healthy Ageing Director Prof. Brian Kennedy, University of Tokyo Prof. Dr. Hiromichi Kimura, and Malaysian Pharmacists Society President Tuan Haji Amrahi Buang, among others.