The UST Faculty of Pharmacy Dean Aleth Therese Dacanay,
Ph.D., and UST Office of the International Relations and Program
(OIRP) Assistant Director Assoc. Prof. Karen Santiago, Ph.D., representing
OIRP Director Prof. Lilian Sison, Ph.D., received six BS Pharmaceutical
Science students from the University of South Australia (UNISA) for a twoweek study tour program.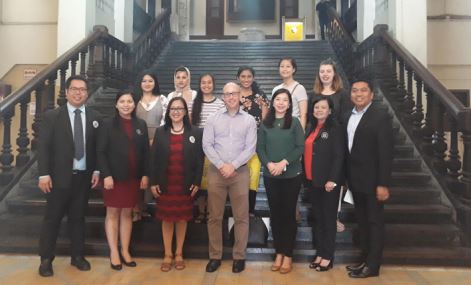 The student participants were: Phoebe Manuel, Laura Santucci,
Rahimeh Rezai, Anisha Ravindran, Serey Lim, Yinan Li.
The program exposed the students to appreciate pharmacy
practice in the Philippines. Special lectures and workshops on community
pharmacy practice, herbal medicines, Philippine medicinal plants and
preparations, particular topics on drug discovery and development, and
patent law and commercialization of pharmaceutical products were given.
Laboratory tours were conducted to familiarize the students to modern
facilities and technology used by the local manufacturers in the drug
research, development, production and quality control was made possible
through laboratory tours. To give them a taste of Filipino
culture, a welcome party and Pinoy fiesta themed cultural program were
arranged by the UST FOP and OIRP for the participants on April 10, 2018.

This collaborative activity strengthens the mutual agreement between the two universities. The study tour program was coordinated with Prof. Matthew James Sykes, Ph.D., Program Director of the Pharmaceutical Science, School of Pharmacy and Medical Sciences, University of South Australia through the efforts of Pharmacy International Relations Coordinator Assoc. Prof. Agnes L. Castillo, Ph.D., with assistance from OIRP