The Philippines, through the Philippine Physical Therapy Association (PPTA)
hosted the Asian Confederation for Physical Therapy (ACPT) Congress
2018 cum PPTA National Convention 2018 titled "Impetus for Synergy" at the Waterfront Hotel and Casino, Lahug, Cebu from November 23 to 25, 2018.
It was attended by 800 delegates from member countries – Indonesia, Japan, Macau, Malaysia, Philippines, South Korea, Taiwan and Thailand. The congress provided a venue for ACPT member countries to sit down, discuss best practices, explore partnerships, establish networks, and
create plans for collaboration towards common goals. The University of Santo Tomas College of Rehabilitation Sciences (CRS) Department of Physical Therapy actively participated as organizational committee members, resource speakers, moderators and special interest group
representatives in the said convention.
UST Office for Research and Innovation Executive Assistant for Intellectual Property and Research Assoc. Prof. Michael Jorge N. Peralta discussed "Intellectual Property Issues in Healthcare Technology" during the parallel session while CRS Dean Assoc. Prof. Anne Marie C. Aseron was a resource
speaker in the Ignite Session about "The Stimulating Shift from Clinicians
to Managers," and Assoc. Prof. Donald Lipardo, was a resource speaker during the Focused Symposium on the "Cultural Perspective of Care for Older Adults."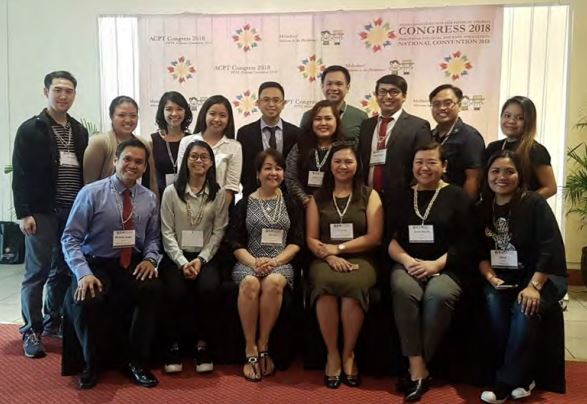 Faculty member Ms. Catherine Joy Escuadra was one of the plenary
discussion speakers during the last day of the conference sharing her experience during the Philippine InterprofessionalEducation and Collaboration Network.
Also, Assoc. Prof. Lipardo and Ms. Arlene Chiong Maya, were both research
presenters during the Congress. Asst. Prof. Christian Rey Rimando, Ms. Kristina Devora, Ms. Fe Therese Chavez, and Ms.Zyra Mae Villamor, were moderators of the different parallel sessions of the congress while Mr. Lemuel Lim and Mr. Lyle Patrick Tangcuangco were the Neurology Special
Interest Group (SIG) representatives.
UST Vice Rector for Academic Affairs Prof. Cheryl R. Peralta, DrPH, was head of the Scientific Committee with CRS College Secretary and CPD Committee Head Ms. Roxanne Fernandez, Ms. Kristina Devora. Asst. Prof. Christian Rey Rimando was the finance subcommittee head of the Sponsorship Committee, while Ms. Catherine Joy Escuadra was head of the Registration Committee, and Assoc. Prof. Michael Jorge Peralta, a member of the Board of Directors of the PPTA , was member of the Publicity and Documentation committee.
The congress was well attended including Thomasian alumni from different fields of practice. Ms. Madelyn Gabrieles, UST CRS Alumni Association President also presented her research during one of the parallel
sessions. As part of their life-long learning, the three-day congress served
as a venue for Thomasian physical therapists to contribute to the growth
and development of their chosen profession. This gathering of physical
therapy professionals served as an impetus for sustainable partnerships
among ACPT member countries, working in Synergy to significantly
contribute to better health outcomes for the people they serve.