With the overarching question "How can parents and guardians benefit from an understanding of mental health?", the University of Santo Tomas, through the Research Center for Social Sciences and Education's National Mental Health Mapping Study, will hold a webinar entitled "Parents: What is mental health and why is it real?" on April 25, 2023 (Tuesday), from 8 a.m. to 12 noon. The webinar will be livestreamed on the official UST Facebook page.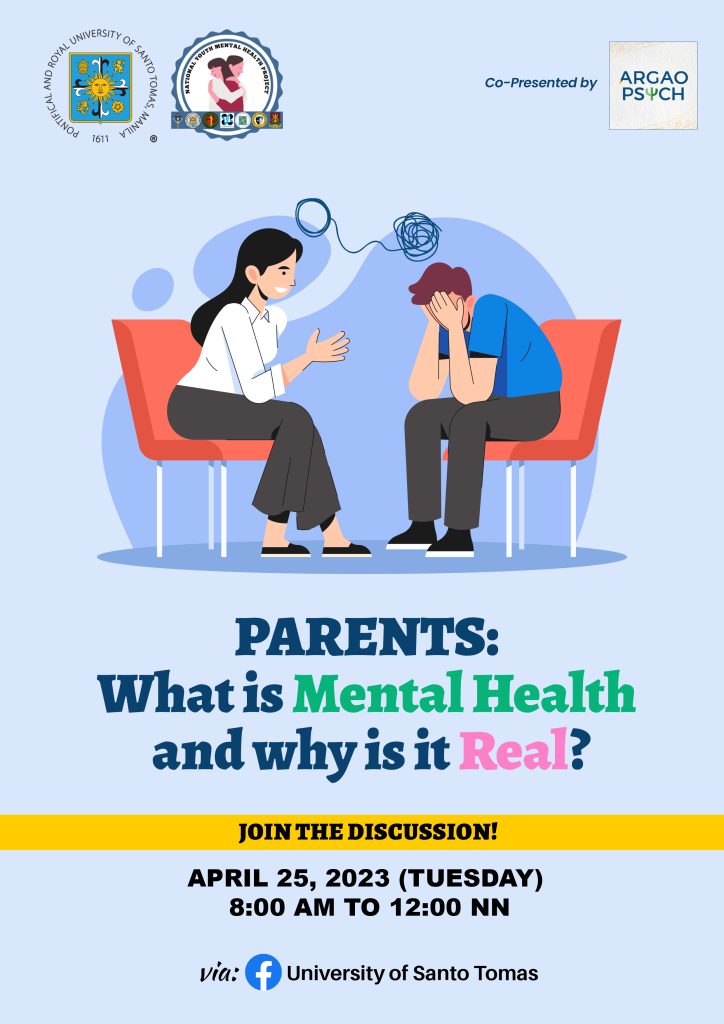 Vice-Rector for Research and Innovation Rev. fr. Jannel N. Abogado, O.P., DTPS will deliver the welcome remarks.
Asst. Prof. Maria Carinnes P. Alejandria, PhD of the University of Brunei Darussalam and Mr. Philippe Jose S. Hernandez, MEng, Communications Bureau Director and the Project Lead of National Youth Mental Health Mapping Project, will present their findings in relation to parents/grandparents and extended family members' impact on mental wellness of students/children.
Meanwhile, Dr. Renz Christian C. Argao, faculty member of the UST Graduate School, will lecture on "Mental Health 101 for Parents, Guardians, and Grandparents".
Panel discussions will also enrich the webinar, with "Confronting Traditional/Outdated Views, Stigma, and Stereotypes" discussed by Dr. Peejay Bengwasan of Saint Louis University – Baguio, Prof. Ma. Regina Hechanova, PhD of Ateneo de Manila University – Quezon City, and Prof. Rowena Guiang, PhD of the University of the Philippines Visayas – Tacloban. The three experts will zero-in on various forms of stigma and its effects, and then empower the viewers with proper approaches on how to address mental health problems.
The second set of panelists will tackle "Journeying with Your Children". Prof. Ma. Claudette A. Agnes, PhD of the Department of Psychology , Ms. Jean Taypa of Palawan State University, and Ms. Alvie Timbancaya of Mindanao State University – Iligan Institute of Technology will likewise guide the parents/guardians/older adults on how they can help their children caught in mental struggles.
This webinar is through the initiative of Research Center for Social Sciences and Education, National Youth Mental Health Project, and Communications Bureau, and the Tiger Media Network.