UST Miguel de Benavides Library Assistant Chief Librarian Ms. Diana V. Padilla served as a resource speaker in Episode 62 of the Intramuros Learning Sessions (ILS) held virtually on July 2, 2021, via Zoom and Facebook Live.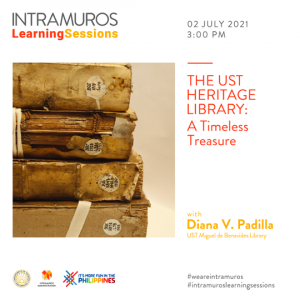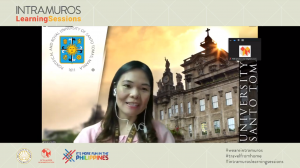 Almost 300 attendees listened to Padilla's discussion on "The UST Heritage Library: A Timeless Treasure." She presented the brief history of the UST Library and its special section called the Antonio Vivencio del Rosario UST Heritage Library, a depository of rare historical collections accumulated for the past four centuries. The section was supported by a grant from the family of the late Ambassador Ramon V. del Rosario, Sr., and named after their grandfather, Antonio Vivencio del Rosario, an outstanding Thomasian and the former Secretary-General of UST (1854-1866).

In her presentation, Padilla shared information on some of its rare periodicals: Libertas, Ang Kalayaan, El Ilocano, Gaceta Oficial, and several 19th-century Filipiniana rare books like old grammar dictionaries in Spanish and Filipino languages. Rare publications such as La Guerra Judaica (1492) or the Jewish War by Josephus Flavius, which is the oldest book in the UST Library and the only example of incunabula in the University; the Biblia Sacra, the Polyglot Bible printed by Christopher Plantin (1514-1589).

Also presented were De Revolutionibus Orbium Coelestium, Libri VI (1543) by Nicolaus Copernicus, the facsimile copies of the first books printed in the Philippines in 1593: Doctrina Christiana, en Lengua Española y Tagala, Doctrina Christiana en Letra y Lengua China, and the Pien Cheng-Chao Ch'uan Shih-Lu or the Testimony of the True Religion are also among the rare collections of the UST Heritage Library.

Padilla also discussed "Lumina Pandit (Spreading the Light): An Exhibition of Historical Treasures," a book exhibition held during the quadricentennial anniversary of the University in 2011. This event which ran from 2010 to 2011, was organized by the UST Library to promote its exceptionally precious collection. This became the seed for the beginning of another endeavor to preserve and disseminate the rare materials of the Library, through the Lumina Pandit II.

Through this program, the UnionBank of the Philippines has been financially supporting the Library since 2011 for the conservation, digitization, and publication of its catalog of rare books. Through the conservation and digitization efforts, the library is able to preserve its exceptional collection and share them with a wider public.